Our top 10 gadgets for the Pope

In honor of the Holy Father's recent Holy Tour of America, Ship of Fools reverently presents the essential guide to the top 10 must-have papal souvenirs, on sale now at a website near you. Here's the shopping list...

Bobblehead
Beer
Caganer
Thong
Soap
Tees
Cologne
Game
Cake
Baubles
170: Bobblehead Benny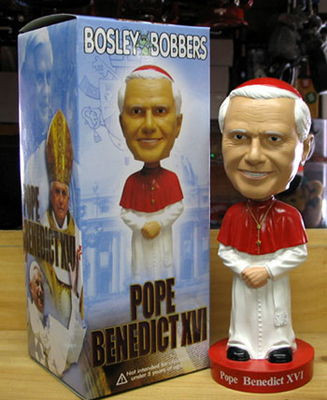 As Christ's Representative on Earth™ the Pope has obediently followed in the footsteps of the Master by going bobblehead. His new statue, complete with a frozen smile that would put any Bond villain to shame, is every bit as blessed as the legendary Bobblehead Jesus. And it's lifelike in every respect, too... except that it nods its head in approval a lot, in a worrying, Vatican II sort of way.

Standing a proud and papal 7 inches tall, Bobblehead Benny is cast from polyresin, ships in an illustrated box (a souvenir in itself!) and costs only $12.95. Order here!

Next: The Pope's Pilsener





Click: The Pope's Pilsener



Spotted a Gadget worthy of these pages? Let us know about it!