What is this?

Since ancient times (ok, 1998), Ship of Fools has been sending Mystery Worshippers to churches worldwide. Travelling incognito, they ask those questions which go to the heart of church life: How long was the sermon? How hard the pew? How cold was the coffee? How warm the welcome?

The only clue they have been there at all is the Mystery Worshipper calling card, dropped discreetly into the collection plate.



If you would like to become a Mystery Worshipper, start here.

See our archive of reports

Famous/infamous
UK & Ireland
USA
Oz & NZ
Canada
Elsewhere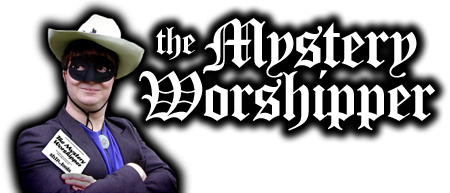 Recent reports

> Wailing and moaning at Grace Chapel, Oceanside, USA
> Vicar of Baghdad preaches: Holy Trinity, Clapham, London
> The Holy Family go shopping: St Joan of Arc, Orleans, USA
> All not welcome at All Saints, Childwall, Liverpool, UK
> Music not uplifting at St Michael's Cathedral, Toronto

> Very special: Dormition of the Mother of God, Phoenix, USA
> No pulpit thumping at St John-at-Hampstead, London
> Twinkle in priest's eye at Mar Abraham, Scottsdale, USA
> No shortcuts at Zionskirche, Bielefeld, Germany
> Enforced welcome at House of Praise, Camberwell, London

> Late sun & sweet peas: St Mary the Virgin, Shepperdine, UK
> Total reverence plus incense: St James the Great, Sydney
> No need to repent at St Maryís, Beddgelert, Wales
> Baptism remembered at Ss Peter & Paul, Shepton Mallet, UK
> Lots of smiles at Holy Spirit, Akron, USA

> No music, no windbags: St Thomas More, Convent Stn, USA
> Watered-down sermon at The Well, London
> Comfortable sinners at St Peter's, Mount Pleasant, USA
> Sermon interrupted at Cathedral, San Juan, Puerto Rico
> Feeling cut off at St Christophorus, Frankfurt, Germany

Editor's choice

> Vicar of Baghdad preaches: Holy Trinity, Clapham, London
> No shortcuts at Zionskirche, Bielefeld, Germany
> Land Rovers and Lurex at St Winefride's, Holywell, UK
> Ken is at peace: St Johnís, Deptford, London
> Kursk Root Icon visits St Elisabeth, Wallasey, UK

Comments, corrections and removals

For the latest comments on and corrections to Mystery Worshipper reports, please go here. Reports over two years old can be removed at the request of the church reviewed. Please email here for further details.



We rely on voluntary donations to stay online. If you're a regular visitor to Ship of Fools, please consider supporting us.



Love Jesus and his gospel

Our MW team attends the ordination to the priesthood, and previous to that the profession of final vows and ordination to the diaconate, of our Shipmate Hart and his fellow seminarian Patrick. Share in the joy of the day from our special vantage point.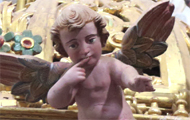 The Mystery Pilgrim

One of our most seasoned reporters makes the Camino pilgrimage to Santiago de Compostela in Spain. Read here.