What is this?

Since ancient times (ok, 1998), Ship of Fools has been sending Mystery Worshippers to churches worldwide. Travelling incognito, they ask those questions which go to the heart of church life: How long was the sermon? How hard the pew? How cold was the coffee? How warm the welcome?

The only clue they have been there at all is the Mystery Worshipper calling card, dropped discreetly into the collection plate.



If you would like to become a Mystery Worshipper, start here.

See our archive of reports

Famous/infamous
UK & Ireland
USA
Oz & NZ
Canada
Elsewhere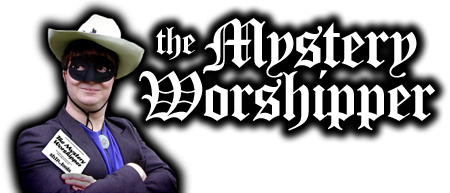 Recent reports

> Wine and smiles at Bethany Evangelical, Isle of Wight
> Wrapped up in themselves: Sandown Baptist, Isle of Wight
> Butterflies & open air at S Martin de Tours, Madrid, Spain
> Unfussy, compassionate: Oasis Waterloo, London
> Jolly old time at Catedral del Redentor, Madrid, Spain

> Yawning acolyte at Granada Cathedral, Spain
> Mass Mob at St Aloysius, Detroit, USA
> Be brave! Immaculate Conception, Portsmouth, USA
> Well done at All Saints, Traverse City, USA
> Everyone friendly at CLF Victoria, London

> Priest inspires at S Antonio de los Alemanes, Madrid, Spain
> Overwhelmed by joy at St Nicholas of Tolentino, Bristol, UK
> Open to God's plan at St Ann's, Avon, USA
> Church, steeple, doors, people at St Mary's, Chester, UK
> Not miserable at Sailors' Church, Ramsgate Harbour, UK

> Friendly and inclusive: Holy Trinity, Barkingside, UK
> No joy at St Mary Magdalen, Brighton, UK
> Where we need to be: Church of the Angels, Pasadena, USA
> Oomph at the end: Metropolitan Cathedral, Liverpool, UK
> Glorious! Marvellous! St Barnabas, Liverpool, UK

Editor's choice

> Flat, lacklustre last day at St Bernadette's, Liverpool, UK
> Relaxed and at home: Cathédrale Notre-Dame, Paris
> Dedication remembered: Little Flower Shrine, Royal Oak, USA
> Roses & peregrine falcons: Reveal of the Tomb of Richard III
> Pure spiritual delight: St Patrick's, Saul, County Down, UK

Comments, corrections and removals

For the latest comments on and corrections to Mystery Worshipper reports, please go here. Reports over two years old can be removed at the request of the church reviewed. Please email here for further details.



We rely on voluntary donations to stay online. If you're a regular visitor to Ship of Fools, please consider supporting us.



Easter 2015

Our Mystery Worshippers had a busy Holy Week: being poked with umbrellas, spotted but ignored, taking in glorious polyphony, and hearing the Resurrection compared to popcorn! Read all about how they got through it.




Christmas 2014

On Christmas Day 2014, our Mystery Worshippers ding-donged merrily their way to both of Liverpool's cathedrals as well as to churches in New Zealand, Arizona, Colorado and Texas. Read all about how the herald angels sang for them.




Love Jesus and his gospel

Our MW team attends the ordination to the priesthood, and previous to that the profession of final vows and ordination to the diaconate, of our Shipmate Hart and his fellow seminarian Patrick. Share in the joy of the day from our special vantage point.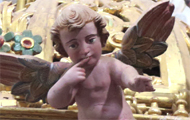 The Mystery Pilgrim

One of our most seasoned reporters makes the Camino pilgrimage to Santiago de Compostela in Spain. Read here.