What is this?

Since ancient times (ok, 1998), Ship of Fools has been sending Mystery Worshippers to churches worldwide. Travelling incognito, they ask those questions which go to the heart of church life: How long was the sermon? How hard the pew? How cold was the coffee? How warm the welcome?

The only clue they have been there at all is the Mystery Worshipper calling card, dropped discreetly into the collection plate.



If you would like to become a Mystery Worshipper, start here.

See our archive of reports

Famous/infamous
UK & Ireland
USA
Oz & NZ
Canada
Elsewhere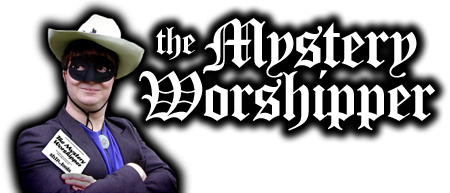 Recent reports

> Good news about Jesus at Life Church, Longview, USA
> Deacon in stilettos at Calvary Episcopal, Louisville, USA
> Staying awake at Prince of Peace, Sun City West, USA
> Decent and orderly at Christís Cathedral, Hamilton, Canada
> Dancing deacon at Christ the King Cathedral, Phoenix, USA

> Grammar lesson at St Oswald's, Grasmere, UK
> Like-minded souls gather at St Brideís, Liverpool, UK
> Hot tea, cold welcome at Our Lady Star of Sea, Wallasey, UK
> Nice spread of people: Mountain View Nazarene, Tucson, USA
> Middle class at prayer: All Souls Langham Place, London

> No playing church at First Christian, Oceanside, USA
> Beautiful music at St Adalbert, Grand Rapids, USA
> Oversimplified: Compass Church, Goodyear, USA
> Surreal re-opening of Shrine of St Walburge, Preston, UK
> Shape note singing at Church of Christ, Surprise, USA

> Frozen Chosen at Christ Church, Charlottesville, USA
> Toddler pursued at St Andrew's, Penrith, UK
> Driven out by heat at Christ Church Cathedral, Ottawa
> Warm worship, blue pipes at St Andrews, Greenville, USA
> Tickelled pink at Worcester Cathedral, England

Editor's choice

> Surreal re-opening of Shrine of St Walburge, Preston, UK
> Tickelled pink at Worcester Cathedral, England
> Zebras in the sky: Jehovahís Witnesses Convention, UK
> A new religion? Glide Memorial, San Francisco, USA
> Rehearsal for Rapture: Everfound at White Rock Baptist, USA

Comments, corrections and removals

For the latest comments on and corrections to Mystery Worshipper reports, please go here. Reports over two years old can be removed at the request of the church reviewed. Please email here for further details.



We rely on voluntary donations to stay online. If you're a regular visitor to Ship of Fools, please consider supporting us.



Love Jesus and his gospel

Our MW team attends the ordination to the priesthood, and previous to that the profession of final vows and ordination to the diaconate, of our Shipmate Hart and his fellow seminarian Patrick. Share in the joy of the day from our special vantage point.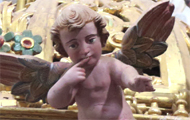 The Mystery Pilgrim

One of our most seasoned reporters makes the Camino pilgrimage to Santiago de Compostela in Spain. Read here.