What is this?

Since ancient times (ok, 1998), Ship of Fools has been sending Mystery Worshippers to churches worldwide. Travelling incognito, they ask those questions which go to the heart of church life: How long was the sermon? How hard the pew? How cold was the coffee? How warm the welcome?

The only clue they have been there at all is the Mystery Worshipper calling card, dropped discreetly into the collection plate.



If you would like to become a Mystery Worshipper, start here.

See our archive of reports

Famous/infamous
UK & Ireland
USA
Oz & NZ
Canada
Elsewhere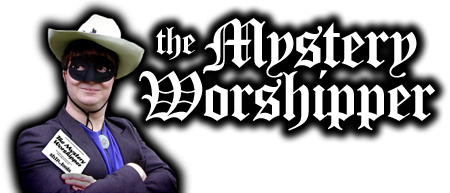 Recent reports

> Familiar hymn in a strange land: St John's, Helsinki, Finland
> Glory to gloom at St Saviour's, Pimlico, London
> A hidden gem: Union Chapel, Highbury & Islington, London
> Spritely organist at St Paul's Cathedral, Springfield, USA
> Clasping hands at St James's, Sussex Gardens, London

> Question time for the ABC: St Edmundsbury Cathedral, UK
> Church is God's idea: Riverside Church, Southwell, UK
> Being all together at St Mary le Strand, London
> "We're getting there!" Llandaff Cathedral, Cardiff, UK
> Great music at Blessed Sacrament, New York City

> Greeted by name at St Mary the Virgin, Sawston, UK
> God crept in at Sunday Assembly, Belfast, UK
> In the cheap seats at St Fin Barre, Cork, Ireland
> Not the body of Christ: North Phoenix Baptist, USA
> Surrounded by singing at Madison Ave Presbyterian, NYC

> Contemporary but cosy: Wesley Uniting, Melbourne, OZ
> All was excellent at St Matthew's, Bayswater, London
> Bright and beautiful at St Paul's, Newton Road, London
> Perfectly frosty at Dome of Home, New Brighton, UK
> Grand Ol' Opry at Foothills Christian, Glendale, USA

Editor's choice

> Question time for the ABC: St Edmundsbury Cathedral, UK
> Honour tinged with irony: St Bart Cathedral, Frankfurt
> Rolling splendor at Cristo Rey Monastery, San Francisco
> Punch-drunk ecstasy at St Paul's Cathedral, London
> CS Lewis in Poets Corner, Westminster Abbey, London

Comments, corrections and removals

For the latest comments on and corrections to Mystery Worshipper reports, please go here. Reports over two years old can be removed at the request of the church reviewed. Please email here for further details.



We rely on voluntary donations to stay online. If you're a regular visitor to Ship of Fools, please consider supporting us.



Drawn in the Spirit's tether

Our MW team attends the profession of final vows and ordination to the diaconate of our Shipmate Hart and his fellow seminarian Patrick. Share in the joy of the day from our special vantage point.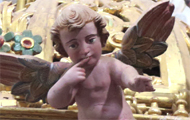 The Mystery Pilgrim

One of our most seasoned reporters makes the Camino pilgrimage to Santiago de Compostela in Spain. Read here.