What is this?

Since ancient times (ok, 1998), Ship of Fools has been sending Mystery Worshippers to churches worldwide. Travelling incognito, they ask those questions which go to the heart of church life: How long was the sermon? How hard the pew? How cold was the coffee? How warm the welcome?

The only clue they have been there at all is the Mystery Worshipper calling card, dropped discreetly into the collection plate.



If you would like to become a Mystery Worshipper, start here.

See our archive of reports

Famous/infamous
UK & Ireland
USA
Oz & NZ
Canada
Elsewhere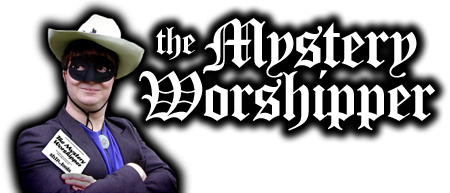 Recent reports


> Musical chairs played at St Saviour's, Brockenhurst, UK
> Too early at Holy Trinity, Dubai, United Arab Emirates
> No confession needed: Agape of Jesus, Jeffersontown, USA
> Ecstasy at Genesis – The King's Church, Oceanside, USA
> Happy to be there! Holy Name of Jesus, Harrisburg, USA

> Firebrands but no windows: St Sebastian, Woodside, USA
> We felt welcome at Whiteface UMC, Wilmington, USA
> Vicar or Pope? St Nicholas, Arundel, UK
> Not for me: Cathedral of All Saints, St Thomas, USVI
> Rector pays it forward at St Peter, Upper Beeding, UK

> A grin on my face at Brandon Baptist, Camberwell, London
> Hot and humid at Emmanuel Episcopal, Boston, USA
> Strong worship, weak tea at Romford Baptist, Romford, UK
> Gallons of phlegm at St Thomas, Prague, Czech Republic
> Lovely duet played at Apostles Lutheran, Peoria, USA

> Down Memory Lane at Chelsea Old Church, London
> Perfect! Chapel Royal of St Peter ad Vincula, London
> Friendly, engaged: Everyday Champions, Greenwich, UK
> Surreal, extraordinary: Fusion Theater, Lowell, USA
> Refreshed, welcomed: Friargate Quaker Meeting, York, UK


Editor's choice


> Rector pays it forward at St Peter, Upper Beeding, UK
> Perfect! Chapel Royal of St Peter ad Vincula, London
> Bodyguard for priest at St Patrick's Cathedral, NYC
> Organ speaks at St Malachy's, New York City
> HM The Queen turns 90: Worcester Cathedral, UK


Comments, corrections and removals


For the latest comments on and corrections to Mystery Worshipper reports, please go here. Reports over two years old can be removed at the request of the church reviewed. Please email here for further details.



We rely on voluntary donations to stay online. If you're a regular visitor to Ship of Fools, please consider supporting us.




The Rapture

On 1 April 2016 it finally happened, and our Mystery Worshipper was among the Chosen Few. Read all about how songwriter Irving Berlin figured into it as you weep and gnash your teeth.




The best of Torold

The Mystery Worshipper known as Torold, among other names, passed on to glory in November 2015. Her sharp eye and quick wit brought much pleasure to our readers and will be missed. See a representative sampling of the best of her reports.



Easter 2016

This Holy Week, our Mystery Worshippers went on a moon walk with Jesus, enjoyed the antics of the church cat, breathed in lavender scented incense, and finished off with a "cheerfully sweet" Easter! Read all about how they got through it.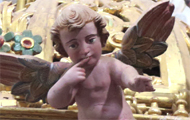 The Mystery Pilgrim

One of our most seasoned reporters makes the Camino pilgrimage to Santiago de Compostela in Spain. Read here.