What is this?

Since ancient times (ok, 1998), Ship of Fools has been sending Mystery Worshippers to churches worldwide. Travelling incognito, they ask those questions which go to the heart of church life: How long was the sermon? How hard the pew? How cold was the coffee? How warm the welcome?

The only clue they have been there at all is the Mystery Worshipper calling card, dropped discreetly into the collection plate.



If you would like to become a Mystery Worshipper, start here.

See our archive of reports

Famous/infamous
UK & Ireland
USA
Oz & NZ
Canada
Elsewhere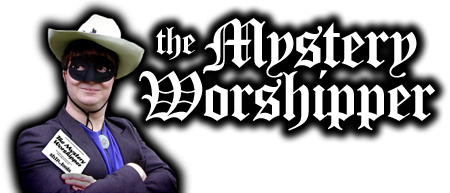 Recent reports

> No kissing, please: St Augustine, Phoenix, USA
> Good shortbread, poor welcome: St Gobhan, Portadown, UK
> Harmony & wet shoes: Malasitapu Presby, Freshwota, Vanuatu
> Child tickled at St Paul's, San Miguel de Allende, Mexico
> Beautiful! Cathedral Basilica of St Louis, USA

> Bishop Suffragan of Burnley consecrated: York Minster, UK
> Hell on earth: Grace Family Church, Aigburth, UK
> Traditional worship, poor coffee: St John's, Detroit, USA
> Pipework amuses at The Dock, Belfast, N Ireland
> A little gem: St Paul the Apostle, Croxteth, UK

> Warm fuzzies at St Mary the Virgin, Hamilton, Canada
> Cell phones and Iced Gems at Ss Peter & Paul, Crosby, UK
> True fruit or sour grapes? Chichester Ordinariate Group, UK
> Weird sermon at Emmanuel Episcopal, Petoskey, USA
> Jesus plays fiddle: Shepherd of Hills, Sun City West, USA

> Archdeacon remembered at All Hallows, Liverpool, UK
> Wandering the aisles at Leeds Cathedral, UK
> Christingles and Rainbows at St Mary's, Liscard, UK
> Party but none came near: St Comgall's, Bangor, UK
> Liturgy well done: St Margaret of Scotland, Oceanside, USA

Editor's choice

> Bishop Suffragan of Burnley consecrated: York Minster, UK
> Archdeacon remembered at All Hallows, Liverpool, UK
> St Lucy honoured at Gustaf Adolfs Kyrka, Liverpool, UK
> Surreal re-opening of Shrine of St Walburge, Preston, UK
> Tickelled pink at Worcester Cathedral, England

Comments, corrections and removals

For the latest comments on and corrections to Mystery Worshipper reports, please go here. Reports over two years old can be removed at the request of the church reviewed. Please email here for further details.



We rely on voluntary donations to stay online. If you're a regular visitor to Ship of Fools, please consider supporting us.



Christmas 2014

On Christmas Day 2014, our Mystery Worshippers ding-donged merrily their way to both of Liverpool's cathedrals as well as to churches in New Zealand, Arizona, Colorado and Texas. Read all about how the herald angels sang for them.




Love Jesus and his gospel

Our MW team attends the ordination to the priesthood, and previous to that the profession of final vows and ordination to the diaconate, of our Shipmate Hart and his fellow seminarian Patrick. Share in the joy of the day from our special vantage point.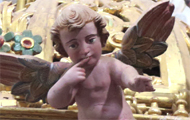 The Mystery Pilgrim

One of our most seasoned reporters makes the Camino pilgrimage to Santiago de Compostela in Spain. Read here.