What is this?

Since ancient times (ok, 1998), Ship of Fools has been sending Mystery Worshippers to churches worldwide. Travelling incognito, they ask those questions which go to the heart of church life: How long was the sermon? How hard the pew? How cold was the coffee? How warm the welcome?

The only clue they have been there at all is the Mystery Worshipper calling card, dropped discreetly into the collection plate.



If you would like to become a Mystery Worshipper, start here.

See our archive of reports

Famous/infamous
UK & Ireland
USA
Oz & NZ
Canada
Elsewhere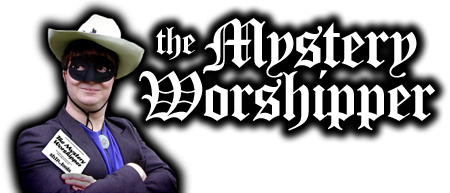 Recent reports


> Eucharist or concert? Emmanuel Episcopal, Boston, USA
> A good accident: Old Cambridge Baptist, Cambridge, USA
> Invisible Man attends Christ Church, Clifton, UK
> Uneasy amalgam at St Martin's-in-the-Veld, Johannesburg
> God's Crock-Pot at Fireplace Church, Blacksburg, USA

> Secret knowledge at St Elias, Birmingham, USA
> Fools for Christ at All Saints, Haggerston, London
> Sleeper wakes at Sutton's Hospital, Charterhouse, London
> Bubbles burst at Grace Lutheran, Phoenix, USA
> (Not) responsible for children: St Peterís, Brockley, London

> "Sign here, please:" Lumen Church, King's Cross, London
> Holy but weird: St Anthonyís Monastery, Florence, USA
> Humming the tune at St Paul's Cathedral, Burlington, USA
> Tenacious congregation at St Luke's, Headingley, UK
> Chaotic, disorganised: St Michael/All Angels, Melksham, UK

> Incarnation explained: Grace Anglican, Oceanside, USA
> Magical candles at St Paulís, Charlestown, UK
> Vicar's wife sings at Holy Redeemer, York, UK
> Great choir, tasty wine: Annunciation, Marble Arch, London
> Light or dark? King's Church, Catford, London


Editor's choice


> Fools for Christ at All Saints, Haggerston, London
> Holy but weird: St Anthonyís Monastery, Florence, USA
> Foretaste of eternity: Brixton NT Church of God, London
> Pontifical vespers, new organ: Sts Simon & Jude, Phoenix
> No peace for the saints at Guards Chapel, London


Comments, corrections and removals


For the latest comments on and corrections to Mystery Worshipper reports, please go here. Reports over two years old can be removed at the request of the church reviewed. Please email here for further details.



We rely on voluntary donations to stay online. If you're a regular visitor to Ship of Fools, please consider supporting us.




Christmas 2016

Why is the Incarnation like an Italian family dinner? Join our Mystery Worshippers in California, Cornwall, London and York as they learn the answer to this and other Christmas riddles.




The Rapture

On 1 April 2016 it finally happened, and our Mystery Worshipper was among the Chosen Few. Read all about how songwriter Irving Berlin figured into it as you weep and gnash your teeth.




The best of Torold

The Mystery Worshipper known as Torold, among other names, passed on to glory in November 2015. Her sharp eye and quick wit brought much pleasure to our readers and will be missed. See a representative sampling of the best of her reports.