147: Bobblehead Jesus


Owners of cars worldwide are set to banish nodding dogs from their back shelves – replacing them with Someone much more significant. While Buddy Christ keeps a watchful eye over you and your passengers from the dashboard, Bobblehead Jesus does a bishoply work from your car's back shelf – affirming drivers as they pull up behind with outstretched arms and a gentle, welcoming nod of the cranium.

"Of course, nobody knows what Jesus really looked like," confess the manufacturers, "but this is our best guess since we know He had a head that moved!" BHJ stands about 8" tall, is hand painted and made of high-quality polyresin. You will need buy velcro (or alternative) for use in a car.

Only $14.95 from here.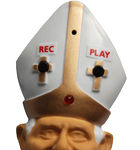 Gadgets for Papa Ratzi

Holy Father Emeritus! Add some ex-infalliblity to your life with our B16 gadgets.