Our top 10 gadgets for the Pope

In honor of the Holy Father's recent Holy Tour of America, Ship of Fools reverently presents the essential guide to the top 10 must-have papal souvenirs, on sale now at a website near you. Here's the shopping list...

Bobblehead
Beer
Caganer
Thong
Soap
Tees
Cologne
Game
Cake
Baubles
173: Pope Benedict Classic Thong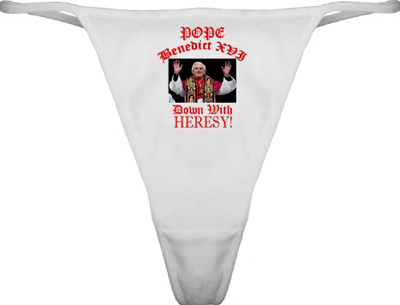 Let's keep this brief. Our understanding here at Ship of Fools was that sacred underwear was the monopoly of the Mormons, but on the evidence displayed above, Catholics are getting their smalls sanctified too.

Thinking about it, it does make you wonder if papal hopefuls in the Sistine Chapel should be told, before they are elected: "Remember, your picture will be printed onto cheap knickers and sold by the thousand on Café Press." It might just have given Papa Benny the chance to say: "You know, I think I'll just stick with Cardinal? Everyone OK with that?"

For cheap laughs at the Church's expense, click here for your Pope Benedict Classic Thong. Just $11.99. Perfect for throwing at Papal audiences. And while you're at it, why not add some thongs of praise to your order?

Next: Pope Soap on a Rope





Click: Pope Soap on a Rope



Spotted a Gadget worthy of these pages? Let us know about it!