Our top 10 gadgets for the Pope

In honor of the Holy Father's recent Holy Tour of America, Ship of Fools reverently presents the essential guide to the top 10 must-have papal souvenirs, on sale now at a website near you. Here's the shopping list...

Bobblehead
Beer
Caganer
Thong
Soap
Tees
Cologne
Game
Cake
Baubles
178: Pope Cake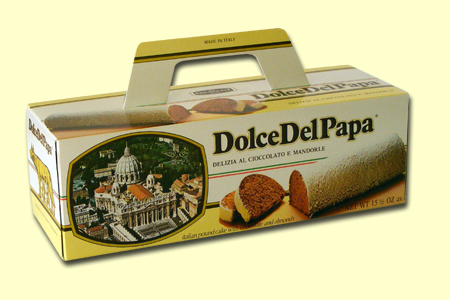 Pope John Paul II attained new heights of spirituality when he was declared to be one of the Dessert Fathers. He made the pilgrimage to cakemaker Pan Ducale back in 1985, and ever since the Pope Cake has been bringing a little taste of heaven to multitudes. And at 330 calories per sanctified slice, Dolce del Papa is very likely helping multitudes toward an early visit to heaven, too.

Says the manufacturer: "The Dessert of the Pope, a chocolate almond roll, has the honor of being one of the few edible items (outside the host) approved by the Church." Eat and be blessed for only 5,700 lira (that's just $3.00) per Pope Cake.

Thanks to James Barrett for spotting this mouthwatering item.

Next: Pope Tree Ornaments




Click: Pope Tree Ornaments



Spotted a Gadget worthy of these pages? Let us know about it!