Our top 10 gadgets for the Pope

In honor of the Holy Father's recent Holy Tour of America, Ship of Fools reverently presents the essential guide to the top 10 must-have papal souvenirs, on sale now at a website near you. Here's the shopping list...

Bobblehead
Beer
Caganer
Thong
Soap
Tees
Cologne
Game
Cake
Baubles
175: Pope Benedict Tees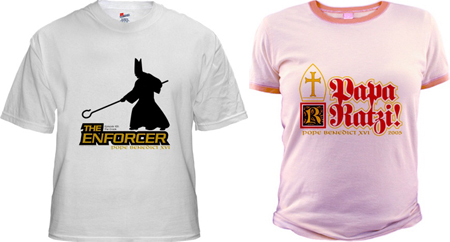 One thousand and one t-shirts have been launched since the Holy Father popped on the papal slippers, ranging from the pious and supportive through to the... well, the other kind. The ones we like best celebrate former Cardinal Ratzinger's ball-busting time as the Church's doctrinal enforcer, when he ran what was still known only 100 years ago as The Inquisition. Nice.

Seen here are The Enforcer (only $17.99) and Papa Ratzi! ($20.99) in appropriate pink. Get yours today. Support the Pope!

Next: The Pope's Cologne





Click: The Pope's Cologne



Spotted a Gadget worthy of these pages? Let us know about it!