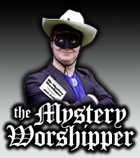 See our archive of reports
Famous/infamous
UK & Ireland
USA
Oz & NZ
Canada
Elsewhere

If you would like to become a Mystery Worshipper, start here.
999: Whitewell Metropolitan Tabernacle, Belfast, Northern Ireland
Read this report | Other comments
14 February 2008

I would like to comment on the evaluation of the ministry of the Metropolitan Tabernacle Belfast. I have attended Whitewell for 10+ years. I was insulted and hurt by the callous way your so called "Mystery Worshipper" tore apart the church.

Understandably, if you are used to attending the Church of Ireland, you will not be used to hearing the gospel and your need of a Saviour. However, whilst Pastor McConnell may not be perfect in his delivery, or in his bodily perfection, no one can leave Whitewell without being confronted as a sinner who needs to be saved.

I have been a Christian from the age of seven years and have worshipped in various places over the years, depending on where life has taken me. There is nowhere in the world like Whitewell. The presence of the Holy Spirit permeates each service. Yes, the church building is grand. It needs to be to accommodate the large congregation. Yes, there are chandeliers, but you couldn't light a building of that size with a few fluorescent tubes. And remember, the God of the universe deserves our hearts and our best – not half an hour of mumbo jumbo repeated from a prayer book once a week, and then live as you like the rest of the time.

Obviously the Mystery Worshipper wasn't there to worship, but to be critical. I challenge them to come along every Sunday for a month. Who knows what might happen – they might even get saved!

Sharon Hunter


30 April 2007

As a child of God and a member of the congregation of the Whitewell Metropolitan Tabernacle, I was saddened that you would feel it appropriate to attack a servant of God such as Pastor McConnell, who has dedicated his life to the ministry of God's word and has preached and influenced people's lives worldwide.

Also, what saddens me even more, is your exaggerated attack on the health of a minister of God's word, who from the age of seven has battled against tuberculosis and has carried on regardless.

Surely your time could be better filled supporting your own church than going around other churches finding fault. I have also noticed the failure in your evaluation to identify how many people (after the sermon, to which you attributed 1 out of 10) realised their need for salvation and gave their lives to the Lord.

Praying for you and your judgmental nature, that the Lord will soften your heart and find you a church you are happy in and can be both blessed and a blessing.

Yours in Christ

Bryan


28 April 2006

I would like to comment on how you could describe such a God-seeking, passionate preacher like Pastor McConnell of Whitewell Metropolitan Tabernacle as "hellfire". It is clearly obvious you have not heard the word of truth preached properly before and to describe a preacher of this quality as hellfire is absurd. Idiotic. What do you know anyway? A man who has led a church for 50 years and now it is one of the biggest in the UK? And you put him down... I don't think so.



We rely on voluntary donations to stay online. If you're a regular visitor to Ship of Fools, please consider supporting us.



Easter 2010

From Yunnan in China to Louisville in Kentucky, we report on Easter services, 2010. Read here.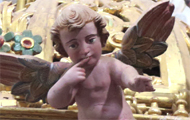 The Mystery Pilgrim

One of our most seasoned reporters makes the Camino pilgrimage to Santiago de Compostela in Spain. Read here.