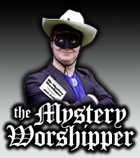 See our archive of reports
Famous/infamous
UK & Ireland
USA
Oz & NZ
Canada
Elsewhere

If you would like to become a Mystery Worshipper, start here.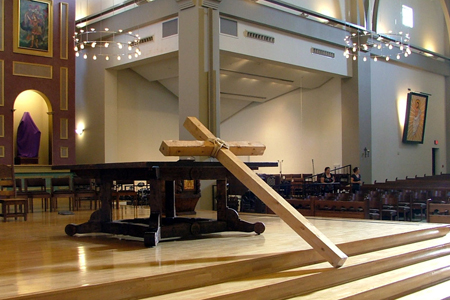 Easter 2010

What did Easter look like in 2010? We asked our Mystery Worshippers around the world to report for us on services where they were, from Palm Sunday through to Easter Day.


Easter Sunday


> Mini Easter eggs in St Laurence, Lanzarote, Canary Islands
> Feeling closer to God in St Mungo's, Edinburgh, UK
> 46 people baptised in Dali Protestant, Dali, Yunnan, China
> Candles and concrete: St Leonard & Jude, Doncaster, UK
> Easter breakfast at First Lutheran, Galesburg, IL, USA
> Rumbled by a cat in St Mary's, Penzance, Cornwall, UK
> Impressive soloists: Town Church, St Peter Port, Guernsey
> "Bring out trumpets and chocolates": St Columba's, London
> Hauntingly beautiful singing in Canterbury Cathedral, UK
> "That's great, ain't it?" St Andrew's, Cronulla, Australia
> Minister from Spaceballs? St Elizabeth's, Milton, MA, USA


Holy Saturday


> Faith and fireworks: St John the Divine, Kennington, London


Good Friday


> Good Friday procession with a cast of 800 in Zejtun, Malta
> Magnificent choir in St Thomas Aquinas, Avondale, AZ, USA
> Communion for 700 in St John's, Mitcham, Australia
> Power of the cross: Hillsborough Presbyterian, N. Ireland
> Procession of the cross through Hamilton, Ontario, Canada


Holy Week


> High Church theatricals in St John the Divine, London
> Arcane Anglican prayers in the Temple Church, London
> Perfect plainsong in St Thomas, Fifth Avenue, NYC
> Procession and singing in St Mary's, Little Ilford, London
> Miserere in the darkness at All Saints Margaret St, London


Palm Sunday


> Pine branch Sunday in St James, Bermondsey, London
> The martyrdom of Oscar Romero: Westminster Abbey, London
> Remembering Oscar Romero in Westminster Abbey, London
> Hand bells, hard pews: Highland Baptist, Louisville, KY, USA
> Irked by Graham Kendrick in VicMeth, Bristol, UK
> A tepid welcome at St Mary's, Hugh Town, Isles of Scilly, UK



We rely on voluntary donations to stay online. If you're a regular visitor to Ship of Fools, please consider supporting us.



Easter 2010

From Yunnan in China to Louisville in Kentucky, we report on Easter services, 2010. Read here.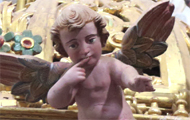 The Mystery Pilgrim

One of our most seasoned reporters makes the Camino pilgrimage to Santiago de Compostela in Spain. Read here.