Mystery Worshipper: Peaceangel.
The church: Whitewell Metropolitan Tabernacle, Belfast, Northern Ireland.
Denomination: Denomination not mentioned anywhere, but probably Pentecostal, possibly Elim.
Comment: We have received comments about this report.
The building: The modern red brick building is huge, seating about 2000 in the main auditorium, plus another 500 in a smaller one. It is more reminiscent of a concert hall than a church, but with lots of Bible kitsch, fake tropical plants under green lighting, enormous chandeliers, and even a full size waterfall in the foyer. Two staircases and a lift go to the upper area leading into the large gallery, which extends along the back and down both sides of the main area. There was lots of parking space around the building, but the lavishness of the interior décor did not extend outside, as it was just very rough ground.
The church: There is a very purposeful and professionally organised outreach into the community, and indeed into the world! The Befrienders is a ministry to the disabled, there is a counselling ministry, and video, audio, radio, television and internet ministries.
The neighborhood: The building dominates the vision to the left as you drive north by the M2 motorway out of the city. It is mainly fed by the lower/middle-class area surrounding it, but people also come from miles around.
The cast: Pastor James McConnell and the worship leader, whose name I did not find out.
What was the name of the service?
Lord's Day Great Evangelistic Rally.

How full was the building?
Almost full, both upstairs and down.

Did anyone welcome you personally?
The man greeting us at the door said, "Good to see you". The lady sitting next to me did not speak to me at all, except to answer my question, "What is the pastor called?"

Was your pew comfortable?
The seats were cinema-type: very comfortable, but with not much leg room. If you wanted to leave early, it would be very difficult to reach the aisles.

How would you describe the pre-service atmosphere?
Crowds of people were mingling about, mostly young, waiting for the red rope at the bottom of the stairs to be removed and the lift put into action, as the stewards were trying to fill the downstairs auditorium first.

What were the exact opening words of the service?
The choir had been singing "Jesus you are wonderful", and as they stopped the pastor walked across the large platform and said, "That's a great song! Will you praise the Lord, everyone?"

What books did the congregation use during the service?
Some people may have had hymn books and Bibles of their own, but none were provided. The songs were all projected onto two large screens.

What musical instruments were played?
A grand piano, drum set, accordion, two guitars, violin, and various woodwinds.

Did anything distract you?
The facial tic of the pastor, which got worse as the sermon progressed.

Was the worship stiff-upper-lip, happy clappy, or what?
It was definitely clappy, though I was not so sure about the happy! There was a royal blue and white robed choir of 250 who clapped along with everyone else. They sang three performance set pieces. The congregational songs were "Jesus, you are wonderful" and "When we a...ll get to heaven..."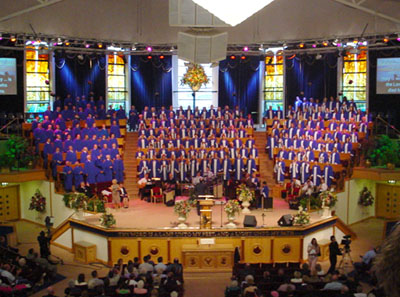 Exactly how long was the sermon?
40 minutes plus a 15 minute prolonged appeal. We were told to close our eyes and the pastor begged people to come and be saved, then appealed to backsliders to return to the fold, and finally suggested that some so-called Christians present might actually need to come and be saved too. The choir led with "Just as I am", sung four times in the background.

On a scale of 1-10, how good was the preacher?
1 – He started out with a deeply sincere tone (occasionally ungrammatical), which developed into an authoritarian style, rising to shouting and shaking his fist to emphasise his points. After a time, he developed a cough, and his facial tic made him jut out his chin, shrug his shoulders and snort like a horse. There was a lot of pacing up and down, wagging of the index finger and clenching of his fists. It must have been quite exhausting, and he was constantly wiping saliva off his mouth with a handkerchief!

In a nutshell, what was the sermon about?
First he asked that there be no moving about during the sermon. He read the story of the rich man and Lazarus from Luke chapter 16, and went on to emphasise the need to decide now to be saved, because once you are in hell it will be too late. Rich people should note that they cannot bring their money with them when they die. Hell was a word not used much now in church. He talked about "silly sermons" preached nowadays and said your minister is an agent from hell if he says this story is only a parable. Hell is a place from which there is no exit, and there is no laughter there. It is mentioned twice as many times in the Bible as heaven. The sermon had no real structure, and his final thought was: "What would happen if you died in your sleep tonight?"

Which part of the service was like being in heaven?
There was really nothing I would imagine finding in heaven.

And which part was like being in... er... the other place?
The heat! Also the overlavish décor, the artificial plants and general air of florid tastelessness.

What happened when you hung around after the service looking lost?
There were far too many people for anyone to be noticed looking lost. However, I wandered around and met the pastor coming out of a side room. He caught my eye and asked, "Did you enjoy the service?", to which I replied, "It was interesting..."

How would you describe the after-service coffee?
There was a large cafeteria in the smaller auditorium, but the queue was so long I didn't wait, though they were serving free tea and sandwiches.

How would you feel about making this church your regular (where 10 = ecstatic, 0 = terminal)?
1 – Only if it was the last gathering of God's people in the world!

Did the service make you feel glad to be a Christian?
Mixed feelings. I might have been embarrassed if some of my Church of Ireland friends had been there with me, but I know this church has a tremendous following and a strong Christian influence among local paramilitary types who would not be seen dead in a traditional church, but have started to feel the need for a spiritual aspect to their life. I'm just glad my God is big enough to use a wide diversity of worship and preaching styles.

What one thing will you remember about all this in seven days' time?
The hellfire preaching!