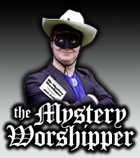 See our archive of reports
Famous/infamous
UK & Ireland
USA
Oz & NZ
Canada
Elsewhere

If you would like to become a Mystery Worshipper, start here.
2517: Camden Town Methodist, London

Read this report | Other comments

21 May 2013

Without disputing Mystery Worshipper Sparrow's experience of the worship service she attended - I wasn't there - I think clarification is needed regarding the relationship between the preacher (Mr Rudolph Griffith) and the congregation.

The impression given by the report is that Mr Griffith had been working temporarily as a pastor with the congregation, who were only too pleased to see the back of him with the return of the regular pastor, the Revd Dr Donghwan Kim. In fact Mr Griffith is not a pastor, but a lay preacher (local preacher in Methodist parlance) from another Methodist congregation, who has led worship occasionally at Camden Town. The reason the congregation presented him with a farewell card was because they were aware he was relocating back to the Caribbean a few days after the service and this would be the last time he preached at this church. This perhaps explains a little of the uneasy relationship the Mystery Worshipper detected between preacher and congregation, which would have been odd if he had been in a pastoral relationship rather than a visitor.

I am surmising that the fact that the congregation struggled with the hymn-singing and the responsive psalm didn't help, and that they, like the Mystery Worshipper, were aware that it had not been a satisfactory act of worship.

For clarification, the Revd Dr Donghwan Kim is the sole pastor of Camden Town Methodist Church but on that particular Sunday was leading worship at the other church for which he has pastoral charge.

Revd Paul Weary
Superintendent Minister
Islington and Camden Mission Circuit



We rely on voluntary donations to stay online. If you're a regular visitor to Ship of Fools, please consider supporting us.



Easter 2010

From Yunnan in China to Louisville in Kentucky, we report on Easter services, 2010. Read here.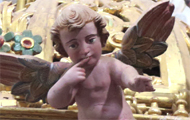 The Mystery Pilgrim

One of our most seasoned reporters makes the Camino pilgrimage to Santiago de Compostela in Spain. Read here.