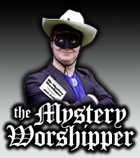 See our archive of reports
Famous/infamous
UK & Ireland
USA
Oz & NZ
Canada
Elsewhere

If you would like to become a Mystery Worshipper, start here.
1531: St Paul's, Visalia, California, USA
Read this report | Other comments
29 May 2008

Jill of All Trades says, "But it saddens me that not all branches of the Anglican communion welcome those who are 'different,' i.e., gay people or people of color."

Jill uses a standard liberal technique of denigrating conservatives, postulating that conservative churches don't welcome homosexuals, people of color, or others. I challenge her, and other liberals, to cite just one example at St Paul's, where she visited, or in the entire Anglican Communion, where this has been true.

Ship of Fools should be wary of accepting further submissions of Jill of All Trades. She was looking to find fault with St Paul's and wrote a very negative report with no supporting evidence cited.

Grant Carson
St Paul's, Gainesville, Texas



We rely on voluntary donations to stay online. If you're a regular visitor to Ship of Fools, please consider supporting us.



Easter 2010

From Yunnan in China to Louisville in Kentucky, we report on Easter services, 2010. Read here.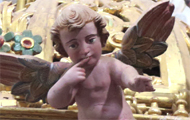 The Mystery Pilgrim

One of our most seasoned reporters makes the Camino pilgrimage to Santiago de Compostela in Spain. Read here.