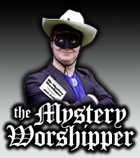 See our archive of reports
Famous/infamous
UK & Ireland
USA
Oz & NZ
Canada
Elsewhere

If you would like to become a Mystery Worshipper, start here.
1361: St Mark's, Philadelphia, Pennsylvania, USA
Read this report | Other comments
23 August 2008

A couple of years ago I attended Epiphany Sunday services at St Mark's Philadelphia before I became a Mystery Worshipper, and found it to be one of the most memorable services I ever attended anywhere, from the "holy pretzel" procession to "We Three Kings", including the censing of the crèche to a magnificent rendition of Menotti's setting for the modern English service, the counterpart to Rite II. They had a virtual brunch that day, too, including great bagels with cream cheese and salmon! No change ringing, unfortunately.

David Luther Woodward



We rely on voluntary donations to stay online. If you're a regular visitor to Ship of Fools, please consider supporting us.



Easter 2010

From Yunnan in China to Louisville in Kentucky, we report on Easter services, 2010. Read here.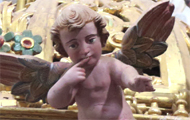 The Mystery Pilgrim

One of our most seasoned reporters makes the Camino pilgrimage to Santiago de Compostela in Spain. Read here.