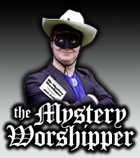 Comment on this report, or find other reports.

Our Mystery Worshippers are volunteers who warm church pews for us around the world. If you'd like to become a Mystery Worshipper, start here.

Find out how to reproduce this report in your church magazine or website.
1361: St Mark's, Philadelphia, Pennsylvania, USA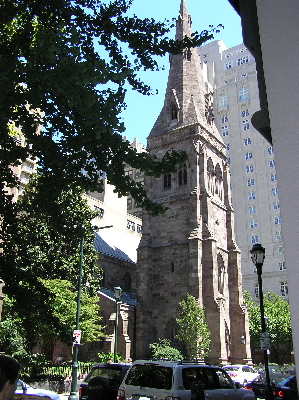 Mystery Worshipper:
Bede.

The church:
St Mark's, 1626 Locust Street, Philadelphia, Pennsylvania, USA.

Denomination:
Episcopal Church in the USA.

Comment:
We have received a comment on this report.

The building:
This smallish Gothic Revival cruciform stone church, c.1849, was designed by the 19th century Scottish-born American architect John Notman, also known for his Italianate villas and several buildings at Princeton University. Notman designed St Mark's with Oxford Movement worship in mind. There are lovely windows throughout, and the church has fine appointments, including a beautiful carved stone pulpit and gilded side altar. A small Lady Chapel contains a breathtaking silver altar and statuary. The interior is dark, but not one lumen too dark. To paint the interior, as some have suggested, would spoil it utterly! A parish hall is attached, with a little garden including a nice magnolia tree, an oasis of green in the urban campus.

The church:
St Mark's has a reputation locally for its liturgical fence-straddling. Center City Philadelphia west of Broad Street is blessed with three surviving (and apparently moderately thriving) Episcopal churches, all designed by Notman in different styles in the mid 1800s, and all within walking distance of each other. St Mark's is liturgically in the middle, the smallest of the three. Three blocks west and one block north, across Rittenhouse Square, is the liberal Holy Trinity, a much larger Romanesque and liturgically broad church. Four blocks north is the ultra-high and much renowned St Clement's, reviewed elsewhere on this site, with its world-class choir. These neighboring churches appear to have decent relations with each other. Remarkably, all remain in the mainstream Episcopal Church despite great liturgical and possibly theological differences.

The neighborhood:
St Mark's is in Center City Philadelphia, two blocks west of the Broad Street "Avenue of the Arts," with its many theaters, restaurants and concert halls, and two blocks east of the bucolic and ritzy Rittenhouse Square. It is one block from the Curtis Institute of Music, arguably the finest music school in the USA, and one block from Walnut Street, with its fine shopping and restaurants. Parking on the charming, walkable but narrow streets of Philadelphia is awkward, and a visitor might be tempted to find a garage nearby. However, although this is not marked, on Sundays one may park for free in what are normally no-parking zones on certain nearby streets if a placard, available inside the church vestibule, is displayed on the car dashboard.

The cast:
The Rev. Sean E. Mullen, curate at the time (but since called to be rector), was the celebrant, preacher, and apparently the only priest in the house – the others may have been away on holiday. Diane Meredith Belcher and Matthew C. Glandorf were each listed as co-organist and choirmaster, but neither Mrs Bede nor I saw which of them was playing. A thurifer and several acolytes rounded out the altar party.

The date & time:
Tenth Sunday after Pentecost, August 13, 2006, 11.00am.


What was the name of the service?

Sung High Mass.


How full was the building?

About one-third full, seemingly almost 100.


Did anyone welcome you personally?

We arrived with little time to spare due to an earlier traffic mishap, so I dropped Mrs Bede off at the door while I looked for a place to park. Mrs Bede reports that two greeters were engaged in conversation and did not notice her at first. But then a third gestured toward her and one of the others handed her a leaflet without pausing in the conversation, albeit with a smile. When I entered after parking the car, I thought that people seemed rather cold at first.


Was your pew comfortable?

As comfortable as one could expect hard wooden pews, sans cushions, to be – that is to say, not at all! They felt slightly lower to the floor than usual, magnifying the Gothic verticality of the church in a nice way and making kneeling a bit easier, but making it harder to rise from a seated position. The kneelers were worn-out and quite uncomfortable – coming apart at the seams. I understand they have been that way for at least six years!


How would you describe the pre-service atmosphere?

Generally quiet and reverential, but with a bit too much talking at the back entrance. See above regarding the welcome.


What were the exact opening words of the service?

"Blessed be God: Father, Son, and Holy Spirit."


What books did the congregation use during the service?

The Hymnal 1982 and the service leaflet, on which were printed all the prayers used. These were copied from Rite II in the Book of Common Prayer 1979, except that I did not recognize the version of the preface and eucharistic prayer that were used – and these did not appear in the leaflet either. The Book of Common Prayer was in the pews but was not used.


What musical instruments were played?

Organ – a magnificent Aeolian-Skinner opus incorporating some pipework from other instruments as well as modern additions. St Mark's is well known for its choir, but unfortunately, due to the summer schedule, the choir was absent during our visit.


Did anything distract you?

It was a warm August morning and somewhat uncomfortable, though fans were on. Because several windows were open (thankfully), random traffic noises (e.g. buses, horns) interrupted periodically from Locust Street. However, the organ, being unusually loud, covered some of that. The priest chanted in a fine tenor – fine somewhat to the point of distraction. An analogy used in the sermon had me thinking of rats nibbling on Oreo cookies for much of the rest of the service. Finally, I cannot deny that an especially low-cut neckline on a well endowed and somewhat sweaty parishioner nearby was hard not to notice. Otherwise, all was reverential.


Was the worship stiff-upper-lip, happy clappy, or what?

Stiff-upper-lip Anglo-Catholic "lite," although a little confusing. The service generally used the modernized language of Rite II, but the chant was done to the old melodies of Rite I. Nor were the lovely Rite I service music settings (Healey Willan, Missa de Sancta Maria Magdalena) modified to fit Rite II. The resultant mixture of "thee" and "you" in the service was jarring to my ear, though I savored hearing the Willan settings again. I have never heard the two rites mixed like this. The prayers of the people were seemingly unique to this parish – I did not recognize the form as taken from any rite I am familiar with, and they were hard to categorize in style. Thus, I'd say the worship was a bit schizophrenic, with modern smells and bells and a faint whiff of the old.


Exactly how long was the sermon?

14 minutes.


On a scale of 1-10, how good was the preacher?

8 – Fr Mullen's delivery was unaffected, his sermon was thought-provoking and nicely structured, and he made good use of humor. But he was a tad vague, and at times it seemed he may have been veiling internal politics in a sort of code. I was left wondering what aspects of Christianity or of Christian-inspired choices qualified as "spiritual junk food" in his eyes, and why. Upon later reflection, I saw parallels between his points and the parish's smorgasbord approach to the liturgy.


In a nutshell, what was the sermon about?

"I am the Bread of Life," the appointed Gospel, as explicated through a recent book, The Omnivore's Dilemma, about the origin, business, and politics of everyday food. Through nibbling, we, like rats, may avoid being poisoned altogether, but what we like to eat may also eventually kill us. He mentioned deep-fried Oreo cookies, a local restaurant's specialty. In our contemporary supermarket approach to religion, often what we choose may be the equivalent of Christian junk food even if not immediate poison. Jesus is the bread of life, plainly a more nutritious choice. Even when we make, or our Church makes, questionable choices, Jesus is still the way to heaven.


Which part of the service was like being in heaven?

The music, even without the choir. The priest's chanting was gorgeous. The congregation not only wholeheartedly participated in singing the hymns but were also surprisingly good. The organist was excellent, though the instrument was a bit too loud. It all made me wish I were able to come back soon to hear the choir.


And which part was like being in... er... the other place?

The number of the recessional hymn had been misprinted in the leaflet. When I looked up for a hymn board to clue me in, I saw holes in the stonework where it must once have been. (Where had it gone, and why?) The congregation were uniformly confused. By about the middle of the second verse we realized we were supposed to be singing number 522, not 552.


What happened when you hung around after the service looking lost?

There was a long line waiting to shake Fr Mullen's hand, and so we meandered about the church a bit and finally joined the line as it became shorter. Father shook hands with all as they departed, and he warmly greeted us as visitors. He invited us to stay for coffee and introduced us to a parishioner couple to guide us through the garden to where it was being served. Without that, we might not have been guided or greeted, as nobody had approached us despite our lost looks. From then on, however, everyone's demeanor changed dramatically. All were very friendly and warm. Many came up to chat. The difference was astonishing. More schizophrenia.


How would you describe the after-service coffee?

Passable coffee; mediocre lemonade. Delicious brownies and blueberry cake, coffee cake, and even a salmon spread, crackers, and bread. No deep-fried Oreo cookies, thankfully.


How would you feel about making this church your regular (where 10 = ecstatic, 0 = terminal)?

6 – The sharp contrasts in our experience were jarring. The congregation did not seem warm or welcoming before the coffee hour, but then suddenly turned friendly, as if "God's frozen chosen" had melted. The liturgy was somewhat muddled, although it was interesting to participate in a service straddling that fence. We'd have to visit again several times to decide, especially when the choir has come back from summer holiday.


Did the service make you feel glad to be a Christian?

Yes.


What one thing will you remember about all this in seven days' time?

Toss-up between the fried Oreo cookies and the beautiful Willan service music, which used to be a standard part of Episcopal worship but is now hardly ever heard at a Rite II liturgy. Lovely!



We rely on voluntary donations to stay online. If you're a regular visitor to Ship of Fools, please consider supporting us.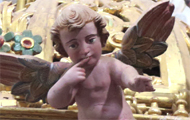 The Mystery Pilgrim

One of our most seasoned reporters makes the Camino pilgrimage to Santiago de Compostela in Spain. Read here.



London churches

Read reports from 70 London churches, visited by a small army of Mystery Worshippers on one single Sunday. Read here.