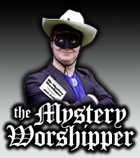 See our archive of reports
Famous/infamous
UK & Ireland
USA
Oz & NZ
Canada
Elsewhere

If you would like to become a Mystery Worshipper, start here.
1116: Greenbelt Communion Service, Cheltenham Racecourse, Cheltenham, England
Read this report | Other comments
7 September 2005

I read the report of the Greenbelt communion service... hmm. Some people loved it, but I just don't understand why. The poetry shout was OKish, but a bit cheesy, and the crack about size doesn't matter just didn't work the first time, let alone the fourth time.

The reading and talk from Peter Graystone was great. Snappy and good. (Although it ought to have been clearer where Jesus stopped talking and Peter Graystone started).

However, three things just didn't work for me and others with me.

1. The songs. Praise my soul and Be thou my vision... well, OK, that was alright, but the songs in communion were just so uninteresting. Why not have Matt Redman do some of the music? After all, he was there, and most people know his songs. Maybe put in an Iona song and some world music for good measure and a trad hymn.

2. The organisation of communion. It just was not clear what we were supposed to do and when. We had had our snacks and passed round bread and wine before the Eucharistic Prayer had started. No one in our group of 20 or so really had a clue what to do. The instructions were unclear. 9.30 assemble and bring a picnic to share. What, at 9.30? I've only just had my breakfast. Oh did you mean at 10.30? But that's not lunch time. Bring a picnic or bring bread and wine to share in communion? There is, I would say, a difference. I was confused.

3. The Eucharistic Prayer. That long thing all about trees and stuff that was mixed up with God and Jesus! How long did this go on? I wish I'd had a watch to time it. It was theologically a mess because it was presenting a mix of folk tale and Gospel narrative without any distinction between them. OK if we want to use some poetry or storytelling, but not mixed up in the eucharistic prayer. It was repetitive, boring and did not engage either mind or heart, I'm afraid.

Please keep the communion simple with familiar stuff. It's something that you presumably want to be accessible to as many people as possible. It's not, I don't think, the time to experiment.

Jonathan Evans


1 September 2005

Sirs,

I enjoyed the report on the Greenbelt Communion, because it made such a contrast with my own experience.

I loved the hymns that your reporter did not like, and enjoyed the chance to be there with such a large crowd.

The "liturgy" was a suprise though. The whole "Tree of Life" theme felt overblown, forced and false. I would have accepted virtually any form of communion, realising that I was just one in perhaps 8,000 there and having a sufficiently wide church background to cope (Bretheren, Ichthus, Holy Trinity Brompton and now a Baptist). What I had not expected was something spoken as truth from the front which was actually a rather forced attempt at being "daring" and "arty". Very confusing for my seven year-old daughter.

The timing was all rather poor as well, with most of the crowd around me left confused as to what was happening in the run up to the communion.

Cut down to an hour or 75 minutes with less of an attempt to be different for difference's sake, it could have been a wonderful symbol of our unity despite our different backgrounds.

Steve King



We rely on voluntary donations to stay online. If you're a regular visitor to Ship of Fools, please consider supporting us.



Easter 2010

From Yunnan in China to Louisville in Kentucky, we report on Easter services, 2010. Read here.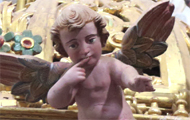 The Mystery Pilgrim

One of our most seasoned reporters makes the Camino pilgrimage to Santiago de Compostela in Spain. Read here.