Mystery Worshipper: Schadenfreude.
The church: Greenbelt Communion Service, Cheltenham Racecourse.
Denomination: All and none.
Comment: We have received comments on this report.
The building: An open field on the edges of Cheltenham Racecourse.
The church: Greenbelt started in 1974 and has taken place every year since over the August bank holiday as a Christian arts and music festival. In typical Greenbelt language, John Bell, one of its contributors, describes Greenbelt on its website as "Quest, not formula; journey, not destination; dance, not doctrine". From my experience, Greenbelt attendees seem pretty normal, and cover a fairly broad religious spectrum, probably from agnostic across to middle of the road evangelical. The most interesting Greenbelt development in my view over the last few years has been its sponsorship by Christian Aid, and the increasing association between Greenbelt and the Make Poverty History campaign.
The neighbourhood: Luckily it was a nice sunny weekend, so the immediate neighbourhood of rolling fields and big open sky could be appreciated.
The cast: A variety of people. First up were Simon and Tess, followed by Paul Cookson, Stewart Henderson and Bob Hartman.
The date & time: 10.30am, Sunday August 28th, 2005.
What was the name of the service?
Greenbelt Sunday Communion.

How full was the building?
The field was probably around three quarters full. I'm no good with numbers, but there must have been several thousand people there.

Did anyone welcome you personally?
A steward said, "Has everyone got their luggage label?" and handed me a red luggage label.

Was your pew comfortable?
My patch of grass was very comfortable, thank you.

How would you describe the pre-service atmosphere?
Very relaxed and friendly, with people wandering around and chatting.

What were the exact opening words of the service?
"Good morning and welcome to the Greenbelt communion. My name is Simon."

What books did the congregation use during the service?
A little booklet was handed out to everyone on entry to the field.

What musical instruments were played?
I could see electric guitars, keyboard, drums, cello and backing vocals. I think the music was provided by a band called Revive.

Did anything distract you?
People were milling around and talking all the way through, but it was a good atmosphere and quite relaxed. The only thing I didn't really like was the way everyone was asked to get into groups to share food they had brought with them for the communion – if you had forgotten or not realised this, bread was available from a number of collection points around the field. Unless you sat at the back (which I did later) it was difficult not to feel pressure to join in. No problem with that – it's a good idea. But I personally prefer rather less interaction with strangers, being a grumpy old man! Many people were there in groups, so their groups were ready-made. I had attended on my own and therefore had no ready-made group to join in with. I think the vast majority of the congregation enjoyed it and had no problem with this.

Was the worship stiff-upper-lip, happy clappy, or what?
The whole service was very middle of the road and uncontroversial, maybe because some cutting-edge Greenbelt Sunday mornings have been heavily criticised in the past. The songs, poems, well known hymns, short sermon and communion were presumably designed to appeal to the majority whilst giving offence to the smallest number. Planning a Sunday morning service for several thousand people from a wide variety of backgrounds cannot be easy, and I was impressed that the organisers seemed to come up with something that fitted the bill. The service did not particularly engage me, and nor did it offend or bore me - but I would guess that that's exactly what the organisers were aiming for, and I think they succeeded very well. The only jarring note was the band's heavy rock interpretation of "Praise my soul the king of heaven" and "Be thou my vision".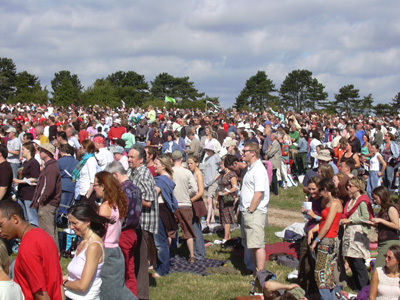 Exactly how long was the sermon?
4 minutes.

On a scale of 1-10, how good was the preacher?
8 – There was really no one sermon. The centre piece, however, was an address by Daleep Mukarji, the director of Christian Aid. He was to the point and short – again, just right for this service.

In a nutshell, what was the sermon about?
Christian Aid has been going 60 years. There is still a need for what it does. The Make Poverty History campaign has been good so far, but there's much still to do.

Which part of the service was like being in heaven?
I enjoyed listening to the band during the communion. Other people mentioned that they particularly liked the prayer tree. Everyone was asked to write a prayer on their red luggage label, and pass it down to the front, where a team of people tied them on to an artificial prayer tree, the tree of life (the theme of the festival this year).

And which part was like being in... er... the other place?
Personally, I thought that the promotion of Trust Greenbelt (a new charity to deal with Greenbelt's surplus) immediately after the Christian Aid slot was crass. Greenbelt has a tendency to be a little in love with itself at the best of times, and this seemed to exemplify this trait. Others may disagree, of course.

What happened when you hung around after the service looking lost?
There was nowhere to hang around looking lost, so I made for the nearest coffee stall as fast as I could.

How would you describe the after-service coffee?
Greenbelt has plenty of trade stalls selling all sorts of stuff, including food and drink. I thought the standard was very good, and most of it seemed to be fair trade.

How would you feel about making this church your regular (where 10 = ecstatic, 0 = terminal)?
7 – Diffiult to be too regular when you can only attend once a year (actually, thinking about it, that sounds about right to me), but I've always felt quite good about Greenbelt. It's fairly relaxed, and there's something there for nearly everyone.

Did the service make you feel glad to be a Christian?
One thing people always mention about Greenbelt is the lack of police. You have 20,000 people stuck in a few fields for 3-4 days and no trouble. Perhaps that's a bit simplistic, but it's got to be good for something.

What one thing will you remember about all this in seven days' time?
The open sky and view around the field while the band played during communion.