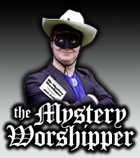 See our archive of reports
Famous/infamous
UK & Ireland
USA
Oz & NZ
Canada
Elsewhere

If you would like to become a Mystery Worshipper, start here.
Other Central London churches
North
Rossmore Hall Evangelical, Marylebone
St Pancras New Church, Euston
Wesley's Chapel, City Road
South
Church of the Nazarene, Clapham
Metropolitan Tabernacle, Elephant & Castle
Southwark Cathedral
St George's Cathedral, Southwark
St John's, Waterloo
St Mary Newington, Kennington
West
Brompton Oratory, Kensington
Cathedral of the Dormition, Kensington
Chelsea Old Church
Holy Trinity Brompton, Kensington
Kensington Temple, Notting Hill
St John the Baptist, Holland Road
St Mary's, Bourne St
Westbourne Grove Church, Notting Hill



We rely on voluntary donations to stay online. If you're a regular visitor to Ship of Fools, please consider supporting us.



Easter 2010

From Yunnan in China to Louisville in Kentucky, we report on Easter services, 2010. Read here.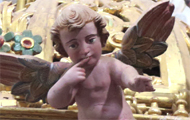 The Mystery Pilgrim

One of our most seasoned reporters makes the Camino pilgrimage to Santiago de Compostela in Spain. Read here.