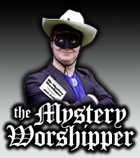 See our archive of reports
Famous/infamous
UK & Ireland
USA
Oz & NZ
Canada
Elsewhere

If you would like to become a Mystery Worshipper, start here.
Liturgical fascism and long-lost cousins: Mystery Worshipper awards presented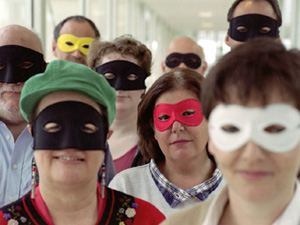 Mystery Worshippers at the awards ceremony.


The first-ever Mystery Worshipper Sunday Awards were presented on Tuesday May 10th – with the Church of the Nazarene next door to Clapham Junction winning "Most Friendly" category.

"We must have shaken hands with half of the adult congregation at the Church of the Nazarene," reports J. Bez, the Mystery Worshipper who visited the church. "In short, we were made to feel like long-lost cousins! The straightforward and unaffected welcome we received will stay with us for some time."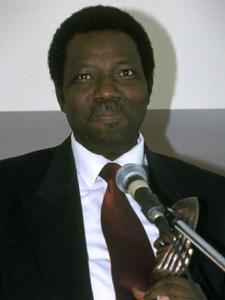 Rev. Dr Ebute Obiabo with his church's award.


The church's minister, Rev. Dr Ebute Obiabo, received the award for Most Friendly Church at Sandown Park, Esher, at a special Mystery Worshipper Sunday presentation at this year's Christian Resources Exhibition, sponsors of the project.

"Tsar Gazer" won the Best-written Report award (+£100) for her visit to the Cathedral of the Dormition, Kensington, where she described the worship as "bloody brilliant liturgical fascism: bells, incense, icons, screen doors that keep the hoi-polloi tantalisingly at bay from the holy of holies and yet strangely don't make you feel cut off from the mystery so much as drawn towards it.

"Not one musical instrument was played. I can't tell you how restful it was. The Russian Orthodox believe the human voice is the most apt way to praise God. More power to their collective elbow. I thanked God often and profusely for the completely tambourine-free zone that is this church."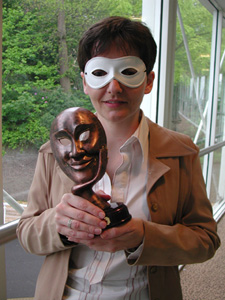 Tsar Gazer with her trophy.


The Most Intrepid Reporter award went to Whatever, for visiting the Redeemed Christian Church of God, above Snappy Snaps near Tooting Broadway underground station.

After sitting through a 45-minute sermon, Whatever and companion were "frogmarched to the back of the church where we... were shown into a chair and someone was placed on the door to guard us."

The Best Church Magazine went to Bloomsbury Baptist, in Shaftesbury Avenue.This award is sponsored by Parish Pump, who supply news, cartoons and competitions to church magazine editors.

"The magazine shows meticulous attention to detail, is workmanlike, and gives the feeling of a joyful, purposeful, worshipping community in close touch with itself and the outside world," said Parish Pump's Rev. Taffy Davies. "The magazine's editor, Margaret Bevis, deserves warm congratulations."

"Many of our readers are already committed pew potatoes – but enjoyed the challenge of covertly reviewing churches and traditions outside their normal experience," said Simon Jenkins, editor of shipoffools.com. "Their insights are intriguing, thoughtful and wonderfully entertaining."



We rely on voluntary donations to stay online. If you're a regular visitor to Ship of Fools, please consider supporting us.



Easter 2010

From Yunnan in China to Louisville in Kentucky, we report on Easter services, 2010. Read here.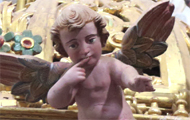 The Mystery Pilgrim

One of our most seasoned reporters makes the Camino pilgrimage to Santiago de Compostela in Spain. Read here.