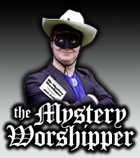 See our archive of reports
Famous/infamous
UK & Ireland
USA
Oz & NZ
Canada
Elsewhere

If you would like to become a Mystery Worshipper, start here.
988: Paradise Community Church, Paradise, South Australia
Read this report | Other comments
9 February 2007

G'day mate. Just thought I'd comment on the article on Paradise Community Church. I'm a 27 year-old man and I started going to Paradise Community Church 13 months ago. I was a drunk, I took drugs, I loved fighting, I was a gambler and a heavy smoker when i walked into that place – I was so broken and lost.

You said that some man greeted you called John Villani. You made him sound like he was a nobody, which hurt me, because when I was broken he came and took me under his wing and prayed with me. He introduced me to the God of the Bible and played a huge role in my total deliverence from alcohol, cigarettes, gambling and street fighting, and he gave all the glory to God. If you gave me a choice between some guy greeting me called John Villani or TD Jakes or Billy Graham, I'd choose my friend John.

Now I'm going on for Jesus, I've been baptised in the Holy Spirit, I'm witnessing of the love of Christ and I'm helping other lost and broken people have a relationship with God. Pastor Ashley Evans just did a sermon on how the rescued become the rescuers. I suggest you get it, because I've yet to hear a sermon called, "I was rescued by Jesus to become a cynical whinger".

Andrew Solomon


10 December 2005

Hi there

Someone did a Mystery Worshipper report on Paradise Community Church. By the sounds of it, they did not attend a regular service. It was a special service when Darlene Zschech was there.

I think you should get someone to attend either a 9am or 11am service to get a clearer understanding of a regular church service.

When we have guests at the church, especially someone like Darlene, we tend to let them use the entire service. If we have someone musical there, they will tend to do their music for the entire service. If it is a guest speaker, they will speak most of the time, and even things like communion will be put off so that the service does not go for too long, and then the guest has that bit of extra time.

Perhaps get someone to attend a regular service, when there is no guest speaker or anything like that.

Regards

Tanya



We rely on voluntary donations to stay online. If you're a regular visitor to Ship of Fools, please consider supporting us.



Easter 2010

From Yunnan in China to Louisville in Kentucky, we report on Easter services, 2010. Read here.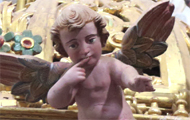 The Mystery Pilgrim

One of our most seasoned reporters makes the Camino pilgrimage to Santiago de Compostela in Spain. Read here.