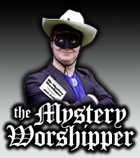 See our archive of reports
Famous/infamous
UK & Ireland
USA
Oz & NZ
Canada
Elsewhere

If you would like to become a Mystery Worshipper, start here.
983: St Anthony of Padua, Forest Gate, London, England
Read this report | Other comments
14 October 2005

Dear Editor

I happened upon your report while looking for a picture of this church on the web. Google did not find it, so I entered "St Anthony", the patron saint of lost things, and was suprised to see your report.

I grew up in a house nearby and this was our local church. This was in the 1960s and 70s. It was a far more ornate church until Vatican II, which, being taken quite literaly, meant the removal of the high altar and many statues. The masses were subsequently all said in English, whereas they were in Latin before.

I was suprised to hear that the Folk Mass is still being held. I remember that being introduced in the late 60s. They used to do a version of "Blowin' in the Wind" by Bob Dylan, with the chorus changed to...

"The answer, my friends, is in the hearts of men..."

John Lipncki



We rely on voluntary donations to stay online. If you're a regular visitor to Ship of Fools, please consider supporting us.



Easter 2010

From Yunnan in China to Louisville in Kentucky, we report on Easter services, 2010. Read here.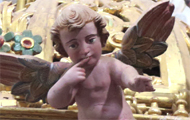 The Mystery Pilgrim

One of our most seasoned reporters makes the Camino pilgrimage to Santiago de Compostela in Spain. Read here.