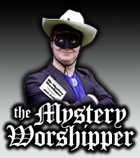 See our archive of reports
Famous/infamous
UK & Ireland
USA
Oz & NZ
Canada
Elsewhere

If you would like to become a Mystery Worshipper, start here.
976: St Paul's Cathedral, London, Ontario, Canada
Read this report | Other comments
23 April 2007

You definitely showed up to the wrong service at St Paul's Cathedral by attending the 9.15am service. At the cathedral, attending the choral service at 11am is a must. The 11am service is Anglican worship at its best.

Unfortunately, by attending the early service, you missed hearing the Cathedral choir. St Paul's Cathedral has a full four part choir, including the young choristers who rehearse no less than three times at week at the cathedral choir school. All of this splendid worship is offered within the magnificent nave, chancel and at the high altar, and not at some small chapel altar that you describe.

Perhaps another visit to St Paul's Cathedral at its main Sunday morning service might give you a different perspective on the hospitality and glorious worship offered at this fine cathedral church, not to the mention the inner city outreach and mission that is provided daily.

Revd Karen Nelles



We rely on voluntary donations to stay online. If you're a regular visitor to Ship of Fools, please consider supporting us.



Easter 2010

From Yunnan in China to Louisville in Kentucky, we report on Easter services, 2010. Read here.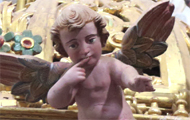 The Mystery Pilgrim

One of our most seasoned reporters makes the Camino pilgrimage to Santiago de Compostela in Spain. Read here.