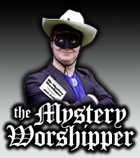 See our archive of reports
Famous/infamous
UK & Ireland
USA
Oz & NZ
Canada
Elsewhere

If you would like to become a Mystery Worshipper, start here.
972: The Advent of Christ the King, San Francisco, California, USA
Read this report | Other comments
15 February 2005

Dear Editor

I am a member of San Francisco's Church of the Advent. The Mystery Worshipper visited the Evensong and Benediction service on Sunday afternoon, January 20th. Apparently this service was new to him and it did not appear that he had ever visited this church before.

I was interested in his comment about the organ. True, it is something of a copy of small German and Dutch organs that first existed circa 1620, and on in to the next century and perhaps a little later. We in the parish have made do with it. It is not the ideal organ for us; it was partially donated by a parishioner and we could not have afforded a new, more appropriate organ.

The reviewer overreacted quite a bit when he suggested we should simply discard it with no replacement in sight. A fund exists to replace this organ. However, it will be many years before that can happen for several reasons.

Richard Ditewig



We rely on voluntary donations to stay online. If you're a regular visitor to Ship of Fools, please consider supporting us.



Easter 2010

From Yunnan in China to Louisville in Kentucky, we report on Easter services, 2010. Read here.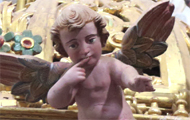 The Mystery Pilgrim

One of our most seasoned reporters makes the Camino pilgrimage to Santiago de Compostela in Spain. Read here.