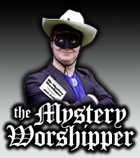 See our archive of reports
Famous/infamous
UK & Ireland
USA
Oz & NZ
Canada
Elsewhere

If you would like to become a Mystery Worshipper, start here.
960: Grace Episcopal, Amherst, Massachussetts, USA

Read this report | Other comments

April 2, 2018

I'm the choir director at Grace Church in Amherst, and I'd like to respond to the comment about the music at Grace.

The Mystery Worshipper happened to come on the day when I had been called away for a family emergency, and I was unable to conduct the choir for the All Saints service (one of my favorite liturgies). My understanding is that the choir did struggle a bit with that anthem, but only because there wasn't a director there to lead them.

Come back and listen again. I's definitely worth the trip!

Ms Elizabeth Damon



We rely on voluntary donations to stay online. If you're a regular visitor to Ship of Fools, please consider supporting us.



Easter 2010

From Yunnan in China to Louisville in Kentucky, we report on Easter services, 2010. Read here.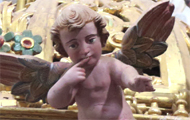 The Mystery Pilgrim

One of our most seasoned reporters makes the Camino pilgrimage to Santiago de Compostela in Spain. Read here.