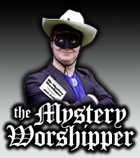 See our archive of reports
Famous/infamous
UK & Ireland
USA
Oz & NZ
Canada
Elsewhere

If you would like to become a Mystery Worshipper, start here.
956: Sint Nicolaaskerk, Amsterdam, Netherlands
Read this report | Other comments
17 March 2005

Dear friends at Ship of Fools,

Great to see more Mystery Worshipper reports on church services here in the Netherlands. I was particularly struck by Mystery Worshipper Pax Britannica's appreciation of worship without being able to understand a single word of Dutch. Something of a sobering thought for us word-crazy Calvinists.

However, this does cause Pax B. to slip up on at least a couple of basic details in Report 956:

1. The church visited is referred to as St Nicolaas Kirche. Maybe that's what it says on the hand-out for German-speaking tourists. But Kirche is definitely not Dutch. That would be Kerk.

2. My other quibble is with the claim that the denomination of the Sint Nicolaas is "None (formerly Roman Catholic and now deconsecrated)".

While there are indeed several (usually Protestant) buildings in inner-city Amsterdam that were formerly churches, this is not the case with the Sint Nicolaas, which would most likely be the city's Catholic cathedral... if the bishop were not based in another town, Haarlem.

After all, Nicolaas is the city's patron saint. And the building is the starting-point of the city's annual Sinterklaas processions, which is one of the top national festivals. The Dutch Sinterklaas, kitted out to look like a bishop, is the character from which the American Santa Claus is derived.

The Sint Nicolaas is the more senior of two churches that together form the Inner City Parish, with its own website and even its own motto: Kerk-zijn in hartje Amsterdam - een heidens karwei ("to be church in the heart of Amsterdam – an infernal task"). Who says Dutch Catholics don't have a sense of humour?

I double-checked with the press officer of the diocese, Wim Peeters, who informed me that the Sint Nicolaas is fully functioning as a church, with mass celebrated there daily.

Perhaps Pax Britannica would be interested to know that there is also an English-speaking Roman Catholic parish here in Amsterdam, Blessed Trinity, although I suspect their building cannot compete with the splendours of the Sint Nicolaas or the Krijtberg.

With best regards from Amsterdam,

Whinny



We rely on voluntary donations to stay online. If you're a regular visitor to Ship of Fools, please consider supporting us.



Easter 2010

From Yunnan in China to Louisville in Kentucky, we report on Easter services, 2010. Read here.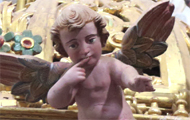 The Mystery Pilgrim

One of our most seasoned reporters makes the Camino pilgrimage to Santiago de Compostela in Spain. Read here.