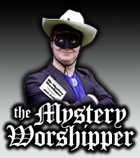 See our archive of reports
Famous/infamous
UK & Ireland
USA
Oz & NZ
Canada
Elsewhere

If you would like to become a Mystery Worshipper, start here.
955: The Cathedral of St John the Baptist, Charleston, South Carolina, USA
Read this report | Other comments
21 February 2006

The Monsignor's name is Msgr. Joseph R. Roth, D.D., P.A., V.G.

A parishioner has pledged a donation so we may again have a steeple and bell tour, but first we are making some much needed repairs.

Kay Phillip


29 September 2005

The writer of the review of the (Roman Catholic) Cathedral of St John the Baptist, Charleston, glossed over something important with the following words: "an imposingly Gothic structure indeed but, oddly, missing a steeple. Apparently, there never was one, due to lack of funds."

Yes, well here is a picture of what the original cathedral looked like after a fire broke out in Charleston during the American Civil War.




For someone outside of South Carolina, or perhaps the South, they may not realise that the Southern economy was destroyed by the war. South Carolina was made especially to pay, as Sherman went through the state ravaging it – poisoning wells, killing livestock, burning houses and cities. I am not Roman Catholic, and it is amazing to me that they been able to do what they have, as they are a very small minority in South Carolina.

This writing is not meant as battle cry for Southern independence, but as a warning against all kinds of warfare. What one person may note as "oddly missing" may be the vestige of another time in our country's deeply divided history, a scar, a reminder, a warning against warfare.

Frank Deese
Columbia, SC



We rely on voluntary donations to stay online. If you're a regular visitor to Ship of Fools, please consider supporting us.



Easter 2010

From Yunnan in China to Louisville in Kentucky, we report on Easter services, 2010. Read here.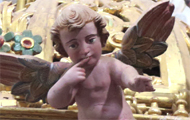 The Mystery Pilgrim

One of our most seasoned reporters makes the Camino pilgrimage to Santiago de Compostela in Spain. Read here.