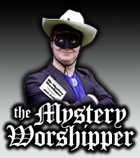 See our archive of reports
Famous/infamous
UK & Ireland
USA
Oz & NZ
Canada
Elsewhere

If you would like to become a Mystery Worshipper, start here.
950: St Mary the Virgin, Wotton Under Edge, Gloucestershire, England
Read this report | Other comments
2 February 2005

Dear Editor

The "pirate" referred to in your report of a service at St Mary the Virgin, Wotton Under Edge, was Harold Wood – and he would have revelled in your description. Sadly, he died after Christmas and was given a royal-style funeral service normally reserved for Wotton's worthies. The bell ringers rang a muffled quarter peal, the choristers sang an anthem and the church was pretty full of locals.

Harold was born a couple of miles outside the town and had suffered mental problems for many years. In childhood, he must have had learning difficulties and was perhaps not always treated kindly by his family and peers. However, he had become a devout and regular worshipper at St Mary's and attended most days, including evening prayers at 5.00pm when often only he and the vicar would be present.

Harold was confirmed in Gloucester Cathedral a few years back and reciprocated the Bishop's blessing by blessing him! This will long be remembered.

At St Mary's, he often wandered up the nave to "conduct" the choir.

Harold's arrival time and departure could be a little erratic, but nobody minded as your Mystery Worshipper discovered. He preferred to dress in kilts or shorts and in colder times would overlay them with a red dressing gown – his favourite colour. Many wore red at his funeral.

I thought I had better explain things as I have only just been recommended to your website. I have printed a copy of your report and will give a copy to Fr John May this evening. I am sure he will be amused.

Kind regards

Michael Sykes



We rely on voluntary donations to stay online. If you're a regular visitor to Ship of Fools, please consider supporting us.



Easter 2010

From Yunnan in China to Louisville in Kentucky, we report on Easter services, 2010. Read here.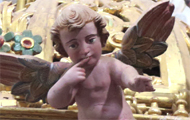 The Mystery Pilgrim

One of our most seasoned reporters makes the Camino pilgrimage to Santiago de Compostela in Spain. Read here.