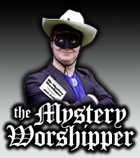 See our archive of reports
Famous/infamous
UK & Ireland
USA
Oz & NZ
Canada
Elsewhere

If you would like to become a Mystery Worshipper, start here.
948: Our Lady of Perpetual Help, Brooklyn, New York, USA

Read this report | Other comments

4 September 2007

I feel so bad for the person who attended mass at Our Lady of Perpetual Help. Growing up in the parish and neighborhood, I found that the church was the center of our lives and community. Even a few years ago, I went back cross country and visited the neighborhood and church. Yes, the community has greatly changed. But I visited the church in the middle of the day in the middle of the week and found a familiar face.

At this point I pray that the Mystery Worshipper thinks about the impressions and about being charitable and Christian in commenting. I haven't found a parish yet that comes close to what we had growing up there.

My children have not attended mass on a regular basis at a real church building. All the parishes here seem to be in lunchrooms or social halls. No organs around here. No stained glass windows in our new, growing communities.

So they need to try it more than once.

Eileen Turner

Amanda B. Reckondwythe replies:

I challenge Mrs Turner to go back and, rather than dropping in "in the middle of the day in the middle of the week", to attend the Sunday noonday mass and to compare her notes with mine. I'll bet her a nickel that she won't encounter anything close to what she remembers from her youth.

And why don't her children attend mass on a regular basis at a real church?



We rely on voluntary donations to stay online. If you're a regular visitor to Ship of Fools, please consider supporting us.



Easter 2010

From Yunnan in China to Louisville in Kentucky, we report on Easter services, 2010. Read here.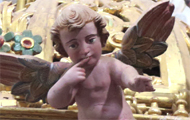 The Mystery Pilgrim

One of our most seasoned reporters makes the Camino pilgrimage to Santiago de Compostela in Spain. Read here.