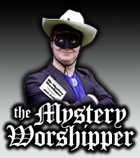 See our archive of reports
Famous/infamous
UK & Ireland
USA
Oz & NZ
Canada
Elsewhere

If you would like to become a Mystery Worshipper, start here.
931: St Chad's, Bradford, England

Read this report | Other comments

18 August 2013

I am rather bemused by the Mystery Worshipper's comment about not seeing the point of Benediction. If this is truly the case, then he or she is obviously more in need of basic Catholic teaching and understanding than he or she appreciates.

One does not go to church in order to be enjoyably entertained superficially, but in order to worship sincerely in spirit and in truth.

Perhaps it might be more sensible if Mystery Worshippers chose churches more "in tune" with their sensitivities in order to comment effectively.

Revd Peter Barnes-Clay



We rely on voluntary donations to stay online. If you're a regular visitor to Ship of Fools, please consider supporting us.



Easter 2010

From Yunnan in China to Louisville in Kentucky, we report on Easter services, 2010. Read here.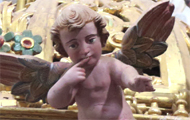 The Mystery Pilgrim

One of our most seasoned reporters makes the Camino pilgrimage to Santiago de Compostela in Spain. Read here.