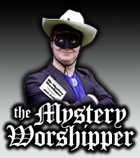 See our archive of reports
Famous/infamous
UK & Ireland
USA
Oz & NZ
Canada
Elsewhere

If you would like to become a Mystery Worshipper, start here.
915: St Thomas, Kuantan, Malaysia
Read this report | Other comments
21 August 2007

First of all, let me say that I enjoy how Ship of Fools teaches us not to take ourselves too seriously, and that I enjoy not only the entertainment but education that your site provides. Keep up the good work!

I refer to the Mystery Worship report on St Thomas Church, Kuantan, and am appalled by what was apparently preached during the mass spoken of in said report. I might have been offended by the statement that Protestants lack respect for Mary, the mother of Jesus. Even taken on the grounds of doctrinal differences, it was, as "Romeo" says, inappropriate in a worship service. But what I am completely flabbergasted by is the priest's supposed call for Catholics to help oust the "ultra Islamic state government".

The Word of God says in Romans 13 that Christians must submit to all governing authorities because they have been established in power by God (though some would add that this submission is only valid insofar as the government in question does not infringe upon the right of Christians to worship). However, not only is this priest's comment unhelpful; it smacks of subversion and even militancy, which, I am sure, we have all had enough of in this day and age.

Changing government by doing good in society with integrity – as indeed one Malaysian politician, Tan Sri Bernard G. Dompok is doing – is what Christians are called to do, and which I wish more of us were doing, rather than sitting around talking about how good it would be if we could send everyone else to hell.

In the Letter to the Romans it is also said, "Do not be overcome by evil, but overcome evil with good" – a verse to which I'd give a good hearty "selah".

Warmest greetings and blessings

Luke Tan



We rely on voluntary donations to stay online. If you're a regular visitor to Ship of Fools, please consider supporting us.



Easter 2010

From Yunnan in China to Louisville in Kentucky, we report on Easter services, 2010. Read here.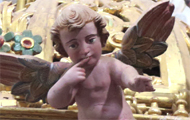 The Mystery Pilgrim

One of our most seasoned reporters makes the Camino pilgrimage to Santiago de Compostela in Spain. Read here.