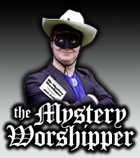 See our archive of reports
Famous/infamous
UK & Ireland
USA
Oz & NZ
Canada
Elsewhere

If you would like to become a Mystery Worshipper, start here.
910: Zion, Chesterfield, Derbyshire, England
Read this report | Other comments
2 October 2005

We are writing with reference to your article on the Zion church in Chesterfield, Derbyshire.

Since your visit to Zion there have been many changes some of which include a new PA system worth £16,000 and complete refurbishment, including removal of the pulpit. Zion is also investing in some more comfortable chairs for the congregation.

The service that you attended wasn't the usual church service. It was a presentation from Missions Aviation Fellowship to raise funds and awareness.

We disagree with your comments about our preacher, Jim McGlade, and find it hard to believe that he would refer to you as "a big chap" as an introductory comment.

On your comments about the books, the church does not provide Bibles; you can request the use of a bible for the service, but the congregation prefer to carry their own personal family Bibles and also there is no need for song books as the church projects the words onto a screen for the sight-impaired.

Also, to encourage our vast young followers, the church uses a live band rather than the old fashioned organ, which is often perceived to be out-dated. On your comment about the young boy on the drums, this only reinforces Zion's encouragement of the youth of today to be active members of the church.

We would like to ask that you attend our church again to get a true objective view of our happy family unit. We write this letter giving you a true picture of we are about. The four of us range in ages from 19 to 42 and also in nationality from British to American.

Kind regards

Jane, Wade, Donna and Jason (active members of the Zion church)



We rely on voluntary donations to stay online. If you're a regular visitor to Ship of Fools, please consider supporting us.



Easter 2010

From Yunnan in China to Louisville in Kentucky, we report on Easter services, 2010. Read here.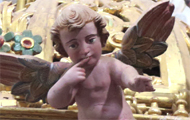 The Mystery Pilgrim

One of our most seasoned reporters makes the Camino pilgrimage to Santiago de Compostela in Spain. Read here.