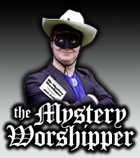 See our archive of reports
Famous/infamous
UK & Ireland
USA
Oz & NZ
Canada
Elsewhere

If you would like to become a Mystery Worshipper, start here.
894: Willow Creek Community Church, South Barrington, Illinois, USA
Read this report | Other comments
17 January 2007

I just stumbled upon your review of Willow Creek Community Church (WCCC). I don't even know where to begin. I found myself wondering if you were attending the same church I have attended for years.

I have spent about 10 minutes on your website and I am still trying to figure out its purpose. In today's society it is hard enough to get people to go to church and here you are criticizing them as if they were some Steven Spielberg film.

I have read your experience at WCCC three times now to make sure I am reading it properly. I still can't believe my eyes. When you have between 3,000 and 5,000 people going to a service how do you expect to be greeted? Is a warm hello or good morning not enough? Do you need a handshake and a discussion of how you are doing? Is it not ok for families to talk to each other before the service or do you need to start to pray immediately when you walk into a church?

In a congregation that big how else do you expect parents to be contacted if their child is having a problem? Also it is not a nursery. It is Sunday school. There are many different names for it depending on the age of your child. It also happens to be where my daughter learned about Jesus and came to ask Him into her Heart as her personal Savior.

Worship stiff-upper-lip. This is the main spot that makes me wonder if you were even really there. At the beginning of every weekend service there is a time of worship. A couple songs by the band and some for the congregation. Singing, dancing and worship are some of the earliest traditions the church was founded on. I see people every week standing worshiping and praising the Lord.

Weekend services are designed for seekers. This is something Willow has always said. They have more intense, in-depth teachings at the midweek service on Wednesday. If you would have walked into the hospitality room someone would have spent as much time with you as you needed and answered any questions you may have had.

I am trying to figure out why I am sitting here typing this email and giving even the time of day to this, whatever it is that I read, but it just bothers me that there are people out there who will take the time to bash a church and have absolutely no knowledge of what that church has done for the community. You walked into this with blinders on expecting something that you did not get. I don't know what that was or is. If you are looking for a personal relationship with Jesus and you can't find it at Willow Creek Church than that is on you.

I don't even know who you are but I am going to pray for you from this day forward and hope someday you will find what you are looking for.

Tony DeLeo



We rely on voluntary donations to stay online. If you're a regular visitor to Ship of Fools, please consider supporting us.



Easter 2010

From Yunnan in China to Louisville in Kentucky, we report on Easter services, 2010. Read here.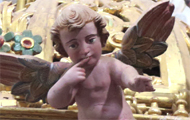 The Mystery Pilgrim

One of our most seasoned reporters makes the Camino pilgrimage to Santiago de Compostela in Spain. Read here.