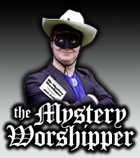 See our archive of reports
Famous/infamous
UK & Ireland
USA
Oz & NZ
Canada
Elsewhere

If you would like to become a Mystery Worshipper, start here.
893: Toronto Airport Christian Fellowship, Toronto, Canada

Read this report | Other comments

25 February 2013

I was surprised to read that your Mystery Worshipper was made to feel invisible at Toronto Airport Christian Fellowship.

Having worshipped there myself, I know that part of their mandate is not to scare off those who might have visited churches that piously go about welcoming folks and almost force them to accept Jesus as their savior. As a Christian, I know that such acceptance can only be done between the individual and the Lord himself.

How arrogant Christians are to think that they should always be allowed to witness that union. It is a very private and intimate thing. Public proclamation could follow, and encouragement to do so should be extended, but never should it cloud one's own choice. This is probably the single most important choice we as humans ever have to make.

How your Mystery Worshipper may have personally felt at the service in question does nothing to prove or disprove the reality of the faith of the folks attending that church. I would only ask this: Has the Mystery Worshipper accepted Jesus, who came to save us all? Does the Mystery Worshipper know the Holy Spirit? I don't need to hear your answers. God is the one you need to answer. Talk to him.

Rob Chapman



We rely on voluntary donations to stay online. If you're a regular visitor to Ship of Fools, please consider supporting us.



Easter 2010

From Yunnan in China to Louisville in Kentucky, we report on Easter services, 2010. Read here.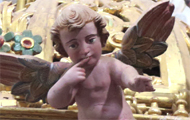 The Mystery Pilgrim

One of our most seasoned reporters makes the Camino pilgrimage to Santiago de Compostela in Spain. Read here.