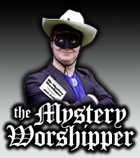 See our archive of reports
Famous/infamous
UK & Ireland
USA
Oz & NZ
Canada
Elsewhere

If you would like to become a Mystery Worshipper, start here.
881: St Peter & St Paul, Uppingham, Rutland, England
Read this report | Other comments
We recently received a complaint about Mystery Worshipper report No. 881, on St Peter & St Paul, Uppingham. The report originally stated that the church was a member of Forward in Faith (FiF), which opposes the ordination of women. Canon Stephen Evans, the church rector, wrote as follows:

19 October 2004

Sir,

No publicity is bad publicity they say, and I enjoyed your piece on Uppingham – sort of! However, there are one or two points which need clarifying:

1. This is not a FiF parish – I was not aware that we appeared on their website and I have requested the benefice be removed with immediate effect.

2. As well as being married to a full time stipendiary woman in ministry, and working alongside two women Readers, a woman Pastoral Assistant, and having two women in training for non-ordained ministry, I do not think that your statement that we have "an atmosphere that officially denies half the human race the chance to fulfil a God-given vocation" actually stands any scrutiny, and indeed, including such an unsubstantiated statement in your entertaining – and otherwise largely positive report – will give many a completely wrong impression of Uppingham and its faithful congregation.

I am sorry that you were not able to be more positive – or, at least, accurate.

Yours sincerely,

Canon Stephen Evans
Rector of Uppingham
Rural Dean of Rutland

On investigation, we discovered that the church was listed on the Forward in Faith website, and also that Forward in Faith was included in the links section of Uppingham's website, which we thought sufficiently misleading as to excuse our Mystery Worshipper of the charge of inaccuracy. However, we've now corrected the report and are happy to publish the following apology from the Mystery Worshipper:

Dear Editor

I'm absolutely delighted to be able to correct and withdraw a completely false statement in the first version of this report, and to apologise unreservedly to the rector and the congregation for attributing to them an opinion which they don't hold. I was misled by a link on the parish website, and am sincerely sorry for the impression I created and the distress and hassle this must have caused.

Best wishes

Stiletto



We rely on voluntary donations to stay online. If you're a regular visitor to Ship of Fools, please consider supporting us.



Easter 2010

From Yunnan in China to Louisville in Kentucky, we report on Easter services, 2010. Read here.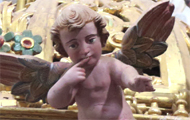 The Mystery Pilgrim

One of our most seasoned reporters makes the Camino pilgrimage to Santiago de Compostela in Spain. Read here.