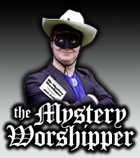 See our archive of reports
Famous/infamous
UK & Ireland
USA
Oz & NZ
Canada
Elsewhere

If you would like to become a Mystery Worshipper, start here.
716: St Margaret's, Palm Desert, California
Read this report | Other comments
4 March 2007

How unfair to judge any group of people by one contact. One of the highlights of my annual visits to Palm Desert is worshipping on Sundays and other days of the week at St Margaret's, including some holiday services.

The people are warm as is the church atmosphere itself, and I truly find the Lord in the service, the glorious music and the beautiful mountain light which streams in. I would encourage anyone who has never been in a church to make this their first experience. One of my friends has, and she returns regularly by herself.



We rely on voluntary donations to stay online. If you're a regular visitor to Ship of Fools, please consider supporting us.



Easter 2010

From Yunnan in China to Louisville in Kentucky, we report on Easter services, 2010. Read here.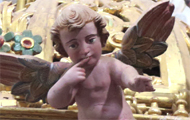 The Mystery Pilgrim

One of our most seasoned reporters makes the Camino pilgrimage to Santiago de Compostela in Spain. Read here.