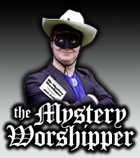 See our archive of reports
Famous/infamous
UK & Ireland
USA
Oz & NZ
Canada
Elsewhere

If you would like to become a Mystery Worshipper, start here.
715: Christ Church, Riverton, New Jersey, USA
Read this report | Other comments
5 April 2005

Dear Editor

While I appreciate the positive comments made in Christ Church, Riverton, NJ, there were some inaccurate remarks as well.

The Sunday in question was just after Christmas, and during the academic year, there is no coffee hour when church school isn't in session (as the church school meets in the parish hall where coffee hour is also held). The church school has about 50 students, and there are midweek services and a Bible study during the week.

These announcements were not in the bulletin due to a lack of room.

The "coldness" of the annoucement on the annual meeting was due in part that Fr Salmon was about to retire, and the parish's energies were being focused on providing a proper send off to a beloved Rector of 33 years.

The organ had been allowed to deteriorate, but all 51 ranks are back up and running.

Thank you and Easter blessings

The Revd Richard C. Wrede
Rector-elect
Christ Church, Riverton, NJ



We rely on voluntary donations to stay online. If you're a regular visitor to Ship of Fools, please consider supporting us.



Easter 2010

From Yunnan in China to Louisville in Kentucky, we report on Easter services, 2010. Read here.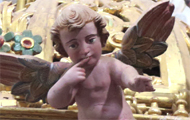 The Mystery Pilgrim

One of our most seasoned reporters makes the Camino pilgrimage to Santiago de Compostela in Spain. Read here.