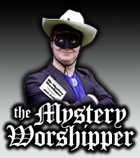 See our archive of reports
Famous/infamous
UK & Ireland
USA
Oz & NZ
Canada
Elsewhere

If you would like to become a Mystery Worshipper, start here.
593: Our Lady & St George, Walthamstow, London
Read this report | Other comments
11 November 2008

What a shame Schadenfreude happened to visit on a day when the church was only "half full!" I have been attending mass here for over 20 years, and apart from the summer holidays, the place is bursting! We are a diverse community with representatives from England, Ireland, Africa, Sri Lanka, Eastern Europe and many other countries – and have made a real effort over the last decade to be a more welcoming place. Catholic masses are, by their nature, more formal than other services, but that doesn't, I think, detract from the warmth of our community. Schadenfreude should come backand give us another try!


5 October 2005

Hi

If Schadenfreude had introduced himself to Father Maurice Gordon who is the main priest at St George's, Walthamstow, he would have found a person who lives out a life of forgiveness day after day and takes a personal interest in keeping someone who is just "on the fringe" of the faith from falling away.

I would urge Schadenfreude to arrange and meet him. He'll be glad he did.

Kind regards

J. Godfrey



We rely on voluntary donations to stay online. If you're a regular visitor to Ship of Fools, please consider supporting us.



Easter 2010

From Yunnan in China to Louisville in Kentucky, we report on Easter services, 2010. Read here.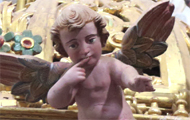 The Mystery Pilgrim

One of our most seasoned reporters makes the Camino pilgrimage to Santiago de Compostela in Spain. Read here.