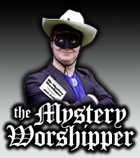 See our archive of reports
Famous/infamous
UK & Ireland
USA
Oz & NZ
Canada
Elsewhere

If you would like to become a Mystery Worshipper, start here.
565: Christ Church, Plano, Texas

Read this report | Other comments

December 10, 2014

This church left the Episcopal denomination after the Episcopal Church began ordaining gay bishops. Christ Church is now a parish of the Anglican Church in North America.

Wonderful believers and uplifting services. Not sure yet how I feel about the "gay ban" for ministers by leaving the Episcopal Church.

Paul Fine




We rely on voluntary donations to stay online. If you're a regular visitor to Ship of Fools, please consider supporting us.



Easter 2010

From Yunnan in China to Louisville in Kentucky, we report on Easter services, 2010. Read here.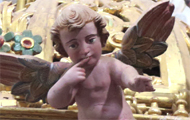 The Mystery Pilgrim

One of our most seasoned reporters makes the Camino pilgrimage to Santiago de Compostela in Spain. Read here.