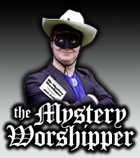 See our archive of reports
Famous/infamous
UK & Ireland
USA
Oz & NZ
Canada
Elsewhere

If you would like to become a Mystery Worshipper, start here.
553: Elim Pentecostal, Coventry, England
Read this report | Other comments
2 February 2007

In 2002, a Mystery Worshipper visited our church, but for some strange reason came on a Saturday to a National Asian Convention held in our building, hosted by our Asian Home Group.

We were delighted that you were able to drop by. The Mystery Worshipper's report is fair for the style/need of that meeting, but not a true representation of our own church congregation, most of which meet at 11.15 and 6.30 on Sundays and consists of over 30 nationalities.

Four years later and our church is still perhaps a little misrepresented by your site! We're not worried about that in the slightest, and we're more than happy for the report to stay, but may I be cheeky and invite you to consider visiting us again sometime on a Sunday?

Look forward to seeing you!

Regards

Rev Helen Smallwood
Elim Pentecostal Church, Coventry



We rely on voluntary donations to stay online. If you're a regular visitor to Ship of Fools, please consider supporting us.



Easter 2010

From Yunnan in China to Louisville in Kentucky, we report on Easter services, 2010. Read here.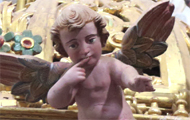 The Mystery Pilgrim

One of our most seasoned reporters makes the Camino pilgrimage to Santiago de Compostela in Spain. Read here.