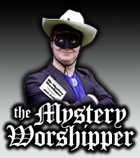 See our archive of reports
Famous/infamous
UK & Ireland
USA
Oz & NZ
Canada
Elsewhere

If you would like to become a Mystery Worshipper, start here.
508: Bath Abbey, Bath, England

Read this report | Other comments

24 February 2016

The Mystery Worshipper was enthralled by the various objects depicted in the stained glass at Bath Abbey.

Part of the charm of stained glass is how it uses common objects to tell a story. For Esther, the scepter; for Ruth, the sandal. But the story being told is not always clear.

Did you look at the passage in the Book of Ruth after reading about the sandal in the window? The author of Ruth knew that readers in his own time would be as unfamiliar with the custom of giving someone a sandal as would we in modern times. And so he saw fit to offer an explanation (Ruth 4:7), saying that giving someone one's sandal was symbolic of cementing or closing a deal.

In Ruth 4, Boaz offers a piece of land to the guardian-redeemer of Ruth's family. But the guardian-redeemer does not want to buy the land because along with it would come Ruth in marriage. So he takes off his sandal and gives it to Boaz, saying, "Buy it yourself." Thus the guardian-redeemer makes it clear that he is relinquishing all right to buy the land, giving that right (and the right to marry Ruth) to Boaz instead.

Mrs Lorraine Davis



We rely on voluntary donations to stay online. If you're a regular visitor to Ship of Fools, please consider supporting us.



Easter 2010

From Yunnan in China to Louisville in Kentucky, we report on Easter services, 2010. Read here.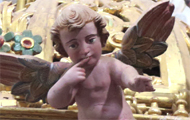 The Mystery Pilgrim

One of our most seasoned reporters makes the Camino pilgrimage to Santiago de Compostela in Spain. Read here.