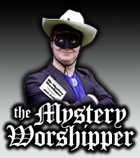 See our archive of reports
Famous/infamous
UK & Ireland
USA
Oz & NZ
Canada
Elsewhere

If you would like to become a Mystery Worshipper, start here.
493: St James, West Streatham, London
Read this report | Other comments
20 November 2007

I'm very surprised by your comments about St James, West Streatham. I have been going there for about seven years and was not a Christian when I first started, although I was made to feel very welcome! I have now become a Christian and was confirmed four years ago, and have never been happier. We have wonderful people at St James, and when I'm on duty I can assure you I and my team are very welcoming.

I'm so sorry you were not made to feel welcome – and very, very surprised. We have a new curate now, Rev. Sue Clarke, and she is lovely. Please do come again!

God bless you and keep you safe

Gilly Bishenden



We rely on voluntary donations to stay online. If you're a regular visitor to Ship of Fools, please consider supporting us.



Easter 2010

From Yunnan in China to Louisville in Kentucky, we report on Easter services, 2010. Read here.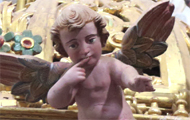 The Mystery Pilgrim

One of our most seasoned reporters makes the Camino pilgrimage to Santiago de Compostela in Spain. Read here.