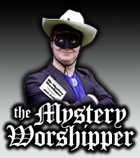 See our archive of reports
Famous/infamous
UK & Ireland
USA
Oz & NZ
Canada
Elsewhere

If you would like to become a Mystery Worshipper, start here.
492: Rome Baptist, Rome, Italy
Read this report | Other comments
14 November 2007

Too bad you have not had a Mystery Worshiper visit Rome Baptist Church more than once, and without a negative bias toward the denomination. Each time I visit Italy I take the opportunity to visit the church and have always been blessed by the service, worshiping with Christians from around the world. I wonder exactly what was the "worshiper" looking for in a Sunday service and what did he bring to the service. What was meant by gossiping? That has a negative sound.

Try attending again with the thought of worshiping.

C Boyle



We rely on voluntary donations to stay online. If you're a regular visitor to Ship of Fools, please consider supporting us.



Easter 2010

From Yunnan in China to Louisville in Kentucky, we report on Easter services, 2010. Read here.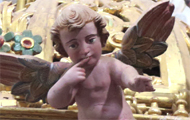 The Mystery Pilgrim

One of our most seasoned reporters makes the Camino pilgrimage to Santiago de Compostela in Spain. Read here.