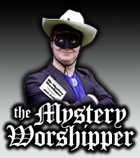 See our archive of reports
Famous/infamous
UK & Ireland
USA
Oz & NZ
Canada
Elsewhere

If you would like to become a Mystery Worshipper, start here.
48: Washington Cathedral, USA

Read this report | Other comments

March 24, 2014

So much has changed at the Washington National Cathedral since your Mystery Worshipper last visited.

It is a very different place now since the new bishop, the Rt Revd Mariann Edgar Budde, was consecrated as the ninth bishop of Washington in November 2011. Bishop Mariann has appointed a new dean, the Very Revd Gary Hall, and the cathedral now has its own congregational group, headed by the vicar, the Revd Canon Jan Naylor Cope.

Dean Hall has been actively reaching out on social issues such as gun control (after Sandy Hook), LGBT rights, and interfaith collaboration.

The wind of the Holy spirit is moving on Mount St Albans.

Catherine Lincoln



We rely on voluntary donations to stay online. If you're a regular visitor to Ship of Fools, please consider supporting us.



Easter 2010

From Yunnan in China to Louisville in Kentucky, we report on Easter services, 2010. Read here.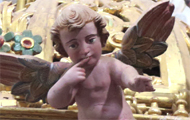 The Mystery Pilgrim

One of our most seasoned reporters makes the Camino pilgrimage to Santiago de Compostela in Spain. Read here.