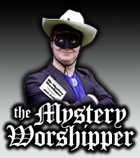 See our archive of reports
Famous/infamous
UK & Ireland
USA
Oz & NZ
Canada
Elsewhere

If you would like to become a Mystery Worshipper, start here.
471: Asylum Hill Congregational, Hartford, Connecticut
Read this report | Other comments
30 March 2006

Dear Mystery Worshipper

I just came across your website while doing a search on my church, Asylum Hill Congregational Church in Hartford, CT. I must say, I found the review enlightening. I see how a newcomer would be intimidated by that particular service.

I want to let you know that what you experienced was a "Jazz Worship" service which is not a typical service for AHCC. Those are special services held three or four times a year. I can assure you, were you to come back the music would be slower, there wouldn't be any hand clapping and the "middle-aged, white" choir would be swaying privately in their loft.

I extend an invitation to you to experience our service on one of our more regular services. You can check our ad in the Saturday edition of the Hartford Courant to make sure it won't be a "Jazz Worship" service.

Peace.



We rely on voluntary donations to stay online. If you're a regular visitor to Ship of Fools, please consider supporting us.



Easter 2010

From Yunnan in China to Louisville in Kentucky, we report on Easter services, 2010. Read here.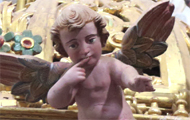 The Mystery Pilgrim

One of our most seasoned reporters makes the Camino pilgrimage to Santiago de Compostela in Spain. Read here.