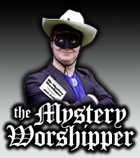 See our archive of reports
Famous/infamous
UK & Ireland
USA
Oz & NZ
Canada
Elsewhere

If you would like to become a Mystery Worshipper, start here.
415: St Cyprian's, Clarence Gate, London
Read this report | Other comments
16 September 2007

I read your report on St Cyprians before visiting, and I expected to be put off. However, when I attended their patronal festival on Friday, it was a great, friendly experience, a beautiful service with a great group of young singers.

I went again on Sunday and though the congregation was much smaller, the whole atmosphere was joyful and friendly. The church is now run by two part time clergy, but they are making a great effort to help bring some community into the church and the neighbourhood.

I think your report of 2001 needs updating – and I think St Cyprians should really remove it from their website, as it does not reflect the current situation!

Geoffrey Newman



We rely on voluntary donations to stay online. If you're a regular visitor to Ship of Fools, please consider supporting us.



Easter 2010

From Yunnan in China to Louisville in Kentucky, we report on Easter services, 2010. Read here.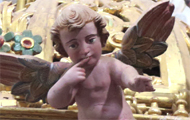 The Mystery Pilgrim

One of our most seasoned reporters makes the Camino pilgrimage to Santiago de Compostela in Spain. Read here.