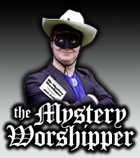 See our archive of reports
Famous/infamous
UK & Ireland
USA
Oz & NZ
Canada
Elsewhere

If you would like to become a Mystery Worshipper, start here.
386: St Philip's, Charleston, South Carolina, USA

Read this report | Other comments

October 17, 2013

Regarding the report on St Philip's, Charleston South Carolina:

After having visited this church last Sunday, I find it really amazing what a decade can do. I found the church to be welcoming, warm, and enthusiastically participatory. The preaching was top notch, and the singing robust.

As a church musician, I was particularly impressed with the beautiful timbre of the children's choirs that sang at the 10.30 service.

I found it incredibly refreshing and uplifting to be in Christian fellowship among a group of people who clearly believed in what they were doing. I loved St Philip's, and only wish I lived closer (I'm from New York).

Gus C

August 18, 2013

I wish to comment on a remark made in the report on St Philip's, Charleston, South Carolina.

I see that the post was written in 2001, so it's not exactly current. However, there was one comment that I feel warrants correction.

Specifically, the Mystery Worshipper wrote: "The diocese is famously conservative, has opposed women's ordination..." Technically, this is correct. The Diocese of South Carolina has, in the past, opposed the ordination of women. Then again, in the past, so did every other diocese in the Episcopal Church. The Mystery Worshipper's phrasing made it sound as if that opposition was far more recent in South Carolina than in other dioceses.

At the time of the Mystery Worshipper's visit to St Philip's, I can state with absolute certainty (based on direct personal knowledge) that the man who was the bishop (the Rt Revd Edward L. Salmon, Jr) did not oppose the ordination of women. Before he became a bishop in 1989, he had had a female priest on his parish staff. As a bishop, he worked regularly with female priests, sent women to seminary, and ordained women to the priesthood. There were at least a few female priests already in the diocese when Bishop Salmon arrived.

The Mystery Worshipper must have been thinking of a time well in the past. If only he could have said so.

Miss Catherine S. Salmon



We rely on voluntary donations to stay online. If you're a regular visitor to Ship of Fools, please consider supporting us.



Easter 2010

From Yunnan in China to Louisville in Kentucky, we report on Easter services, 2010. Read here.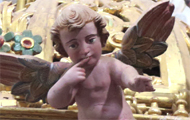 The Mystery Pilgrim

One of our most seasoned reporters makes the Camino pilgrimage to Santiago de Compostela in Spain. Read here.