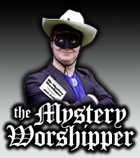 See our archive of reports
Famous/infamous
UK & Ireland
USA
Oz & NZ
Canada
Elsewhere

If you would like to become a Mystery Worshipper, start here.
362: The Sign of the Theotokos, Montreal, Canada

Read this report | Other comments

8 August 2012

I came across your site and I would like to address the review done on the Sign of the Theotokos Church in Canada.
I have never attended that parish and I donít know the priest in that review. Even so, I have some comments that might be of value to you on being objective with Eastern Christianity.
First of all, Eastern Christianity has always retained the Christian belief that the eucharist (communion) is exclusive, not inclusive like the Western churches have adopted. An Orthodox priest will question those who approach the chalice if he does not know that person. Questions like "Are you an Orthodox Christian?" "Who is your bishop?" etc. These are prerequisite to avoid the eucharist being compromised.
By looking at the picture of that church, I would say that it was a former Western (RC/Protestant) church. Exterior and interior architecture is Gothic in design and layout and is very different from the normal Byzantine style of Orthodox Christianity.
You are correct in the fact that the services are very focused on God. Yes, most of the time we stand during a liturgy, matins or vespers. In my 69 years of being an Orthodox Christian, most of the churches have pews/seats with a minor amount of them being without, because they have imported from their foreign roots of certain countries.
Eastern Christianity follows the belief that the people change for the faith and not the faith changing for the people.
Hope this helps you understand.
Respectfully submitted,
David J. Novak



We rely on voluntary donations to stay online. If you're a regular visitor to Ship of Fools, please consider supporting us.



Easter 2010

From Yunnan in China to Louisville in Kentucky, we report on Easter services, 2010. Read here.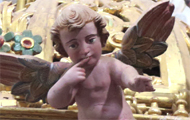 The Mystery Pilgrim

One of our most seasoned reporters makes the Camino pilgrimage to Santiago de Compostela in Spain. Read here.