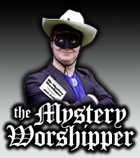 See our archive of reports
Famous/infamous
UK & Ireland
USA
Oz & NZ
Canada
Elsewhere

If you would like to become a Mystery Worshipper, start here.
3308: Northminster Presbyterian, Phoenix, Arizona, USA

Read this report | Other comments

May 28, 2018

I was surprised that Miss Amanda, my favorite Mystery Worshipper, had never heard "forgive us our sins, as we forgive those who sin against us" in the Lord's Prayer.

I believe that she is an Episcopalian, as am I. This is the official Rite 2 version - though many churches do not seem to use it. It is on page 364 of the Book of Common Prayer.

Ms Jean Imperatrice

Amanda B. Reckondwythe replies:

Thank you for the compliment!

The "sins/sin against us" language is in the modern Lord's Prayer, for whose existence I see no justification. Northminster Presbyterian used the traditional Lord's Prayer language except for the "sins" phrase.

Personally I would not return to an Episcopal Church that used Rite 2 with the modern language. Most Rite 2 celebrations Iíve been to use the traditional (and, for me, the only acceptable) language.



We rely on voluntary donations to stay online. If you're a regular visitor to Ship of Fools, please consider supporting us.



Easter 2010

From Yunnan in China to Louisville in Kentucky, we report on Easter services, 2010. Read here.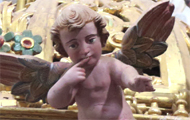 The Mystery Pilgrim

One of our most seasoned reporters makes the Camino pilgrimage to Santiago de Compostela in Spain. Read here.