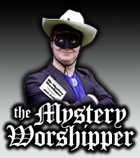 See our archive of reports
Famous/infamous
UK & Ireland
USA
Oz & NZ
Canada
Elsewhere

If you would like to become a Mystery Worshipper, start here.
3275: St Mary's-on-the-Highlands, Birmingham, Alabama, USA

Read this report | Other comments

February 14, 2018

As a long-time parishioner and employee of St Mary's, I am so glad that you enjoyed your worship experience with us. And thank you for your kind words. I have been eagerly watching this site since we found the "visitor card" in our offering plate!

You mentioned in your report that we have a cross rather than a crucifix over the altar. Crucifixes are rare in the Episcopal Church. Some say it comes from the Reformation and its disdain for "graven images." I have also been told it is because we are "Easter" people focused on the risen Christ rather than Christ crucified. Either way, I wanted to explain why it is so.

Again, thank you for visiting us and if you are ever in our area, please join us again!

Peace!

Mrs Melodie Elam



We rely on voluntary donations to stay online. If you're a regular visitor to Ship of Fools, please consider supporting us.



Easter 2010

From Yunnan in China to Louisville in Kentucky, we report on Easter services, 2010. Read here.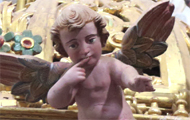 The Mystery Pilgrim

One of our most seasoned reporters makes the Camino pilgrimage to Santiago de Compostela in Spain. Read here.