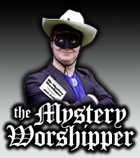 See our archive of reports
Famous/infamous
UK & Ireland
USA
Oz & NZ
Canada
Elsewhere

If you would like to become a Mystery Worshipper, start here.
3272: Church of the Epiphany, Tempe, Arizona, USA

Read this report | Other comments

January 18, 2018

Once again Miss Amanda has nailed it! Her report was perfect, right down to the sartorial imperfections of the servers.

I live near Coeur d'Alene, Idaho, and am a member of St Luke's Episcopal Church there. We have good friends who live in Glendale, Arizona, but have not visited them there because they moved to Arizona after our last visit to the Phoenix area.

We have, however, visited Tempe, though not the Church of the Epiphany. (We attended church in Mesa at - I believe - St Mark's.) Next time we'll have to visit Epiphany.

Thanks again, Miss Amanda, and please keep reviewing. Your essays are informative, stylistically spot on, and fun to read.

Jean Imperatrice



We rely on voluntary donations to stay online. If you're a regular visitor to Ship of Fools, please consider supporting us.



Easter 2010

From Yunnan in China to Louisville in Kentucky, we report on Easter services, 2010. Read here.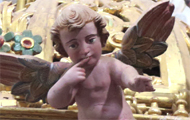 The Mystery Pilgrim

One of our most seasoned reporters makes the Camino pilgrimage to Santiago de Compostela in Spain. Read here.