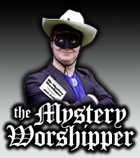 See our archive of reports
Famous/infamous
UK & Ireland
USA
Oz & NZ
Canada
Elsewhere

If you would like to become a Mystery Worshipper, start here.
3271: Tewkesbury Abbey, England

Read this report | Other comments

7 February 2018

Tewkesbury Abbey cannot be referred to as "Anglo Catholic" as the recent report states. The incumbent is now female, and Anglo Catholics cannot accept women as priests in all good conscience.

David Geaughen-Powell


Isabella of Angouleme replies:

It is good to know that one's reports are read. However, I am mystified by the comment that "the (Tewkesbury) incumbent is now female."

Tewkesbury is administered by a team. Although the current team does includes two women, the name at the top of the list, labelled Vicar, is that of Canon Paul Williams, who is known within the town (and well beyond it) as "the incumbent" and, indeed, as a male incumbent.

And if that holy and kindly priest elects to speak on the Abbey's website of its Anglo-Catholic heritage, and to describe its worship as being in that style, then I would not presume to challenge his claim.

I can only suggest that, given the opportunity, our respondent should attend a Sunday morning sung eucharist (be prepared for generous quantities of incense) and judge for himself.



We rely on voluntary donations to stay online. If you're a regular visitor to Ship of Fools, please consider supporting us.



Easter 2010

From Yunnan in China to Louisville in Kentucky, we report on Easter services, 2010. Read here.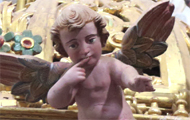 The Mystery Pilgrim

One of our most seasoned reporters makes the Camino pilgrimage to Santiago de Compostela in Spain. Read here.