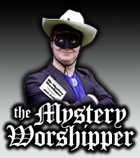 See our archive of reports
Famous/infamous
UK & Ireland
USA
Oz & NZ
Canada
Elsewhere

If you would like to become a Mystery Worshipper, start here.
3262: The Nativity, Bethlehem

Read this report | Other comments

30 December 2017

Just finished reading "A Shepherd's View" of Jesus' birth 2000 years ago. It was funny, and yet very profound.

The writer let his imagination go back to that "not-so-silent night" with his fellow shepherds. The description of the first angel he saw is so spot-on. Angels, to the human eye, are indeed frightening at first!

I'd like to think this shepherd and his fellows brought along a couple of their guard dogs, and a couple of their sheep, to Bethlehem. Maybe those dogs were Canaan dogs? Or perhaps an Akbash or two?

Well done, indeed!

Ms Patricia Finnegan



We rely on voluntary donations to stay online. If you're a regular visitor to Ship of Fools, please consider supporting us.



Easter 2010

From Yunnan in China to Louisville in Kentucky, we report on Easter services, 2010. Read here.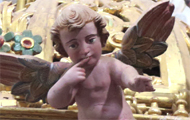 The Mystery Pilgrim

One of our most seasoned reporters makes the Camino pilgrimage to Santiago de Compostela in Spain. Read here.